Major sports event bans Russian flag after Ukrainian complaints
Tennis showpiece the Australian Open has reversed its policy after initially letting fans display the Russian tricolor in the stands
Organizers at the Australian Open have said they will no longer allow fans to display Russian and Belarusian flags at the tournament, following a complaint from the Ukrainian ambassador to the country regarding an "incident" on Monday.
"Flags from Russia and Belarus are banned onsite at the Australian Open," read a statement from Tennis Australia on Tuesday. "Our initial policy was that fans could bring them in but could not use them to cause disruption. Yesterday we had an incident where a flag was placed courtside."
A Russian flag was seen in the stands on the outer courts at Melbourne Park during the first-round match between Ukraine's Kateryna Baindl and Russia's Kamilla Rakhimova on Monday. The scene triggered anger from some Ukrainian observers, including women's player Marta Kostyuk – who has already stated that she will continue her policy of not shaking hands with Russian and Belarusian players at the tournament. Kostyuk shared an image on Twitter of the Russian tricolor at the match between Baindl and Rakhimova, writing "no words…" followed by a series of 'exploding head' emojis.
Ukraine's ambassador to Australia, Vasily Myroshnychenko, also weighed in, demanding that Tennis Australia enforce a "neutral flag" policy as he "strongly condemned" the presence of Russian colors.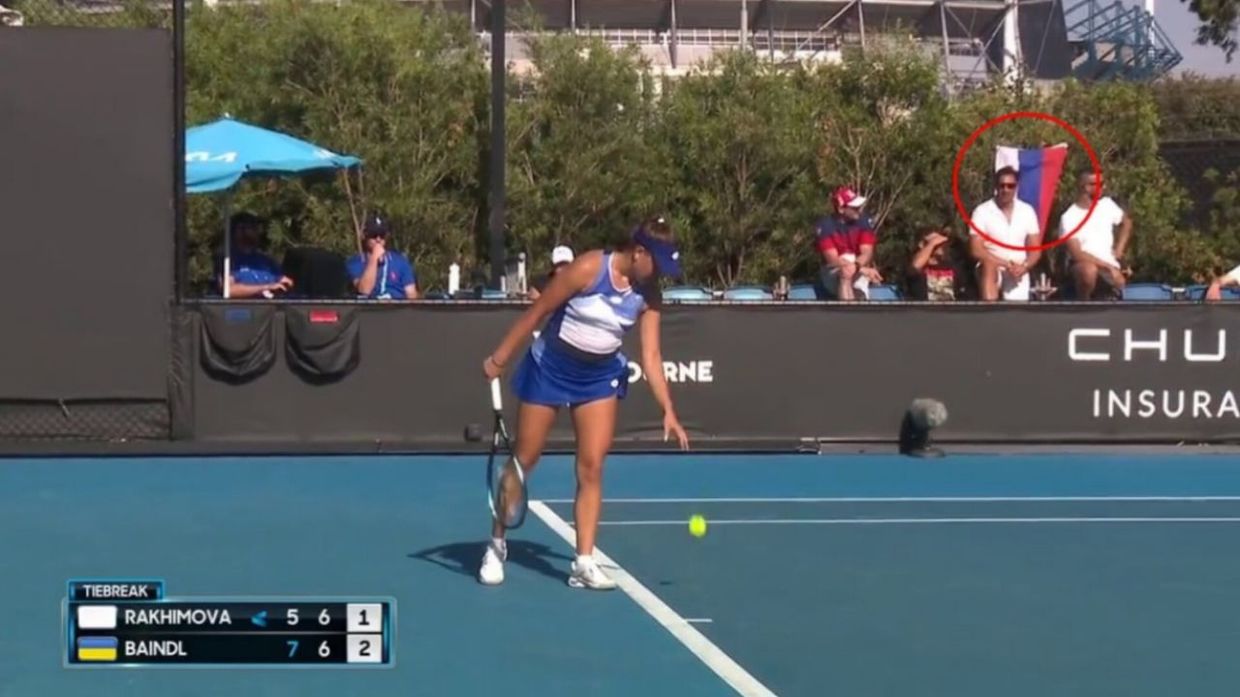 One Russian fan who was reportedly among the group which displayed the flag, Eugene Routman, told Australian media outlet The Age: "We got a few complaints, but we weren't heckling, we were just cheering for the Russian player because she only had one supporter, her mom."
"It's not like we're waving Nazi flags and ISIS flags. It's a sovereign country," added Routman, who moved to Australia from Russia with his family at the age of five and was wearing a T-shirt bearing an image of President Vladimir Putin.
Ukrainian spectators accused Routman and his fellow fans of "taunting" their player and called security staff to the court, where the Russian flag was removed and no further action taken. Ukrainian-Australian spectator Maria Tumarkin claimed the behavior of Routman and his group was "unsafe" and "intimidating," especially given the proximity of fans to the court.
Read more

Australia rejects Ukrainian calls for Russian tennis ban
Russian and Belarusian players are free to compete at the Australian Open but must do so without any national symbols – in line with the rules set by tennis' governing bodies the ITF, WTA and ATP following the outbreak of the conflict in Ukraine in February.
Ahead of the tournament in Melbourne – which is one of four Grand Slams on the tennis calendar – Ukrainian ambassador Myroshnychenko had called on the Australian authorities to ban Russian and Belarusian players completely, following in the footsteps of British showpiece Wimbledon.
Organizers in Australia declined to take that step, instead allowing the likes of Russian top-10 stars Daniil Medvedev and Andrey Rublev and Belarusian women's world number five Aryna Sabalenka to compete, albeit under neutral status.
Commenting on the flag ban for spectators, Sabalenka said she was under the impression that "sport is nothing to do with politics," but that "if everyone feels better this way, then it's OK."
Men's star Rublev, who is seeded fifth, was in action in his first-round match against Dominic Thiem on Tuesday, with a Russian tricolor reportedly being removed from the stands at the John Cain Arena after the ban was introduced.