Rogan talks up 'scary' Russian heavyweight threat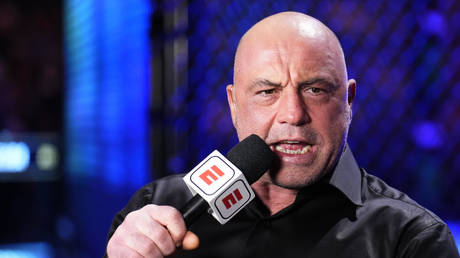 The UFC pundit and podcaster discussed the prospects of the big-hitting Sergei Pavlovich
Russian UFC heavyweight Sergei Pavlovich is a "scary dude" whose current form could propel him to title contention, according to Joe Rogan. Pavlovich is undefeated in his last five fights – all of which have ended via first-round knockout.
"I'll show you what I'm interested in," Rogan said in a conversation with UFC welterweight Belal Muhammad on his podcast this week. "What I'm interested in at UFC heavyweight: Pavlovich is the boy. Sergei Pavlovich, that motherf**ker, that's the Russian Francis [Ngannou]. He comes out guns-blazing on people, just like Francis used to."
Pavlovich is ranked third in the UFC's heavyweight standings – a division now without a ruler following the departure of former champion Francis Ngannou after his contract dispute with the promotion.
UFC president Dana White announced last weekend that former light-heavyweight champion Jon Jones would return to contest the vacant heavyweight title against France's Ciryl Gane at UFC 285 in Las Vegas on March 4.
Rogan admitted that the match-up was an "interesting" one, not least considering that Jones hasn't competed in the UFC for three years while Gane is a former title challenger who was beaten by Ngannou 12 months ago.
However, Rogan added that the recent exploits of Pavlovich – who continued his streak of destruction with a brutal finish against Tai Tuivasa in December – made him the one to watch in the division.
Pavlovich boasts fearsome power.

©  Jeff Bottari / Zuffa LLC
"That motherf**ker [Pavlovich] can bomb. He's fast, very good, very good… The Tai Tuivasa fight was incredible. You think about Ciryl Gane going through that war with [Tuivasa], Sergei just put it on him," said Rogan.  
"His boxing is really tight, real power punches, excellent technique. A big guy too. This dude is scary, he can crack. He's interesting, I want to see him fight more.
"To me, with Francis leaving, he's one of the most interesting guys at heavyweight, if not the most interesting guy at heavyweight. I am very interested in him fighting a guy like Jon Jones, that's crazy to me," added Rogan.
Rogan suggested that if Jones could get past the formidable figure of Gane and then beat former heavyweight champion Stipe Miocic, a meeting would Pavlovich would be the next logical step for UFC matchmakers.
Jones, 35, is stepping up to heavyweight in a bid to join an elite group of two-division UFC champions. Despite his numerous controversies, Jones is widely considered among the greatest UFC fighters of all time. The only blemishes for Jones in a 28-fight professional career came in 2017 when his bout with Daniel Cormier was later ruled a 'no contest' for a doping violation, and in 2009 when he was disqualified against Matt Hamill for illegal elbows.
Pavlovich, 30, has lost just once in his 18-bout professional career. The Rostov fighter was stopped in the first round of his UFC debut by Dutch veteran Alistair Overeem, but has since bounced back with five first-round victories which showcased his formidable power.