5 top ways to get your children into golf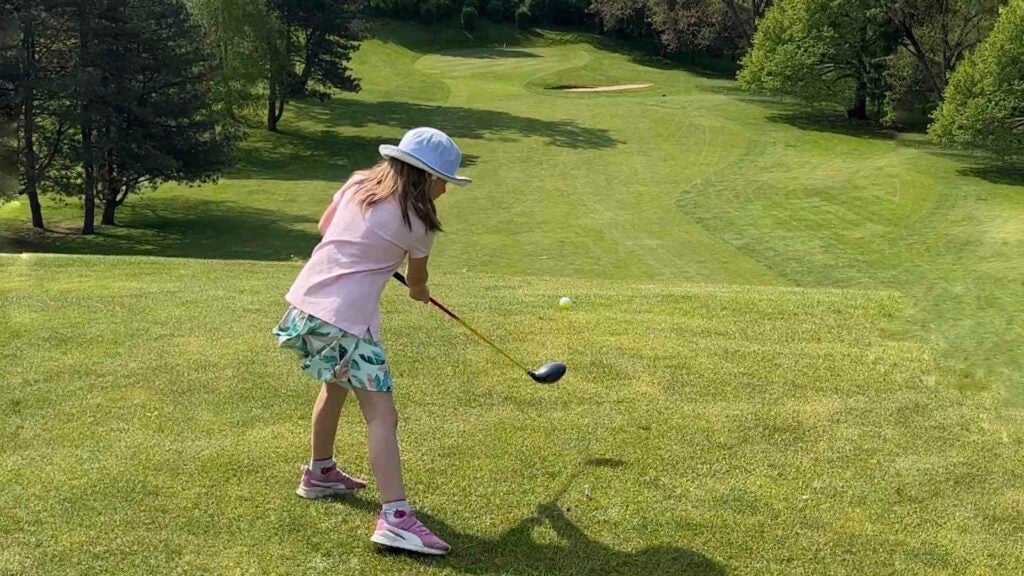 Golf is a game that can be played for a lifetime, and along with learning a skill that requires hand-eye coordination, it is a game that can help build confidence and important social skills, along with relationships.
As someone who got into golf as a child and now has children who are starting to show an interest in the game, these are the top ways that I have found can increase interest and, more importantly, fun.
Start with the basics
If you're here for in-depth instructional material on how to help kids maximize their launch numbers and lower scores you're in the wrong place.
When it comes to getting kids started with any activity, it is all about getting them set up as quickly as possible with a few fundamentals and letting them explore how they want to interact with the game. One of the best fundamentals for kids to learn is where to aim, and how to properly hold the club — within reason, of course.
If they want to hold it like a hockey stick, or even cross-handed, let them do it, but using a training grip on a big oversized driver (we'll get to that part in a moment), can help them naturally grip the club in a proper position without any (annoying and boring) extra instruction.
The right equipment
Having the right-sized equipment for a child is crucial for starting any activity, and golf is no different.
Gone is the era of cutting down adult clubs and just throwing a grip on them. Junior clubs are extremely lightweight, and that lighter weight makes them easy to swing and super forgiving.
Even if you just start with a driver and a putter, a couple of properly fit clubs are a lot better than a full set of bad ones.
Always make it fun
If there is one thing kids are, it is full of honesty, and if they're not having fun they'll tell you really quickly. With that in mind, doing small things that can help make the activity more fun and engaging goes a long way.
Anything from hitting old golf balls into a pond on the course, to having a few extra snacks (more on this momentarily), or even a Bluetooth speaker with their favorite tunes can make the time on the range, putting green, or course a lot more fun.
Of course, playing a few holes with a cart is always a fun option for almost any kid, but be sure to follow safety guidelines, along with never leaving them in a cart unattended and removing the key anytime you step away.
Rokform G-ROK Wireless Golf Speaker
$99.99
Product Description
In The Box
Videos
FAQ
The ultimate easy-to-use golf speaker. Portable bluetooth golf cart speakers that instantly sticks to a golf cart and other metal surfaces. This rugged iPX7 Waterproof & Dustproof wireless portable speaker is perfect to take on and off the course. The G-ROK will provide you with 24-hour battery life, 30 Foot range of wireless quality sound, and one heck of a powerful magnetic hold to your golf cart. This speaker is a must-have for all golfers!
Easy to use Magnetic Mounting
iPX7 waterproof and dustproof
Rugged drop-resistant construction (5 ft)
24 hours of play time
Built-in speaker phone
Wireless up to 30 ft
Optional Micro SD Card stores up to 5,000 songs
G-ROK Speaker with built in Twist Lock and Magnets
Removable Aluminum Hook (for storing or hanging on golf bag)
Aux cable for connecting to non-wireless devices
USB power cord
Instruction manual
View Product
Create positive association
It's human nature to create outside associations with other positive experiences and things we enjoy. For children, this means offering up something that you know will be a win-win, either before or after some time at the course or range.
In most cases, it doesn't have to be anything big, and in fact, something as simple as time at the park or a fun snack on the patio can help create this association. I quickly learned this after we took our oldest out for lunch after some time at the range The next thing we knew, golf and tacos were a thing!
Celebrate small wins
As any golfer will attest, golf is full of constant failure, and for beginners — especially kids — it is important to make sure that time spent around the game is a positive one.
Every shot, every attempted putt, and even just something as simple as helping rake a bunker is a great way to offer encouragement. Beyond the fun of hitting golf balls into a pond, another great way for kids new to the game to see success is by hitting shots from the top of a hill, since it only takes a small amount of contact to get the ball moving forward and going as far as gravity will take it.