Did England's tactics against the Boks give New Zealand the blueprint for World Cup final victory?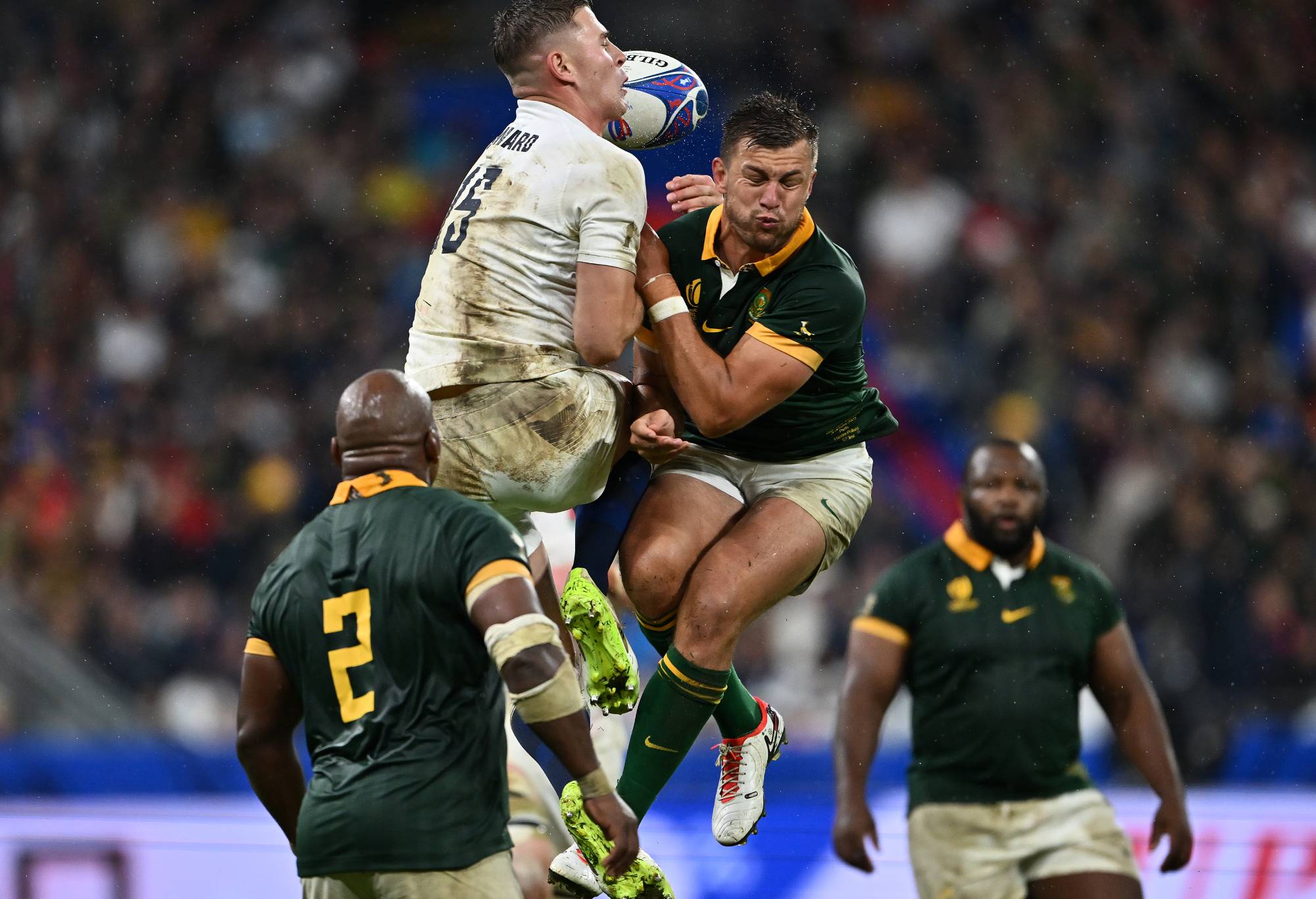 We have the Rugby World Cup final that was always there as a juicy morsel of possibility, and even one that many of us might have wanted. Whether we thought we'd get it seven weeks ago is up to the individual to admit.
I didn't think we would, for the record. I had Ireland and France getting through last week. But once they didn't, I certainly didn't see anything other than a New Zealand-South Africa decider coming.
And I certainly didn't see England leading the second semi-final for 78 minutes. A 30-plus thumping like the night before was never on the cards, but England weren't supposed to front-run.
But to their credit, they did a lot of things right to get into that position. Chief among that was their kick-chase, which ensured that the Springboks never had an easy time of defusing any kick out of hand, which in turn negated the attacking threat of the Boks speed men on their edges.
The curiosity of this is two-fold. How much New Zealand might go to school on England's kicking tactics and positioning for their own benefit, and obviously, how much South Africa might have learned from them themselves.
The tactic was there from kick-off: England outside centre Joe Marchant got through and actually got both hands on the ball to give the Springboks a knock-on advantage before they'd even taken their first possession. The Boks kicked the advantage away and that was cleanly taken by fullback Freddie Steward, but that set up England's first proper crack at their tactic.
England played another phase to the openside to increase the angle, set the first of many, many caterpillar rucks for the match (remind me again when they'll be outlawed from?), from which scrumhalf Alex Mitchell put up a box kick from just inside his half.
On the near side, Elliot Daly can be seen momentarily pausing the timing of his run to maintain his being onside. He gets a checkered run from South African pair Cobus Reinach and Kurt-Lee Arendse, but still arrives in position to beat Manie Libbok into the air and tap the ball back to the arriving England chasers.
England played two passes into the middle of the field and for the ruck contest, won the penalty, and Owen Farrell kicked the first of four first-half penalty goals. Early advantage taken.
From the restart and Maro Itoje's clean catch, England set another ruck just outside their 22, extended the length with two additional bodies to such effect that Mitchell's box kick was taken inside the 22, launching it aerially to come down on the halfway line.
Daly again worked hard to time his run – and repeat use of the pause button could only conclude he got it spot on – got an interrupted run from Arendse again to this time be outjumped by Damien Willemse, but still managed to get enough of a touch to see the ball roll into touch. 'Knocked back off white,' referee Ben O'Keeffe ruled, so first lineout throw of the match to South Africa.
But Itoje outfoxed the Bok jumpers, allowing England to again play another phase inland, this time setting Farrell up for the exit kick to the far side.
Farrell's kick wasn't his best and didn't make much ground, meaning Jonny May didn't need to cover much ground to create the contest. But he did manage to get a hand above Cheslin Kolbe, the ball rolled into touch for a South African scrum feed.
The match clock at this point reads 4:13, and England had already created and influenced three kick contests to varying degrees of success.
This was the difference between the sides on the night. South Africa tried to make contestable kicks, but they gave Steward all the time and position to set himself for the contest in the central channels. But in their own half, England would set rucks on the 15-metre tramline complete with two or three extra sets of legs at the back for length, for Mitchell to hook a kick back down the left edge and allow Daly to get through and force a contest.
And this was Daly's sole job for the night; his stats sheet reads for three passes only. No carries, no metres made, no line breaks and no defenders beaten – but countless kick contests, some won, some not, but all of them ensuring Willemse or Libbok or whoever was at the back cleaning up wasn't getting a clean catch on any kick.
With such an effective blueprint laid out bare, it's hard to imagine New Zealand not using similar tactics – be that adopting England's methods completely and very deliberately, or reverting to comparable tactics they've used themselves in the past.
There's plenty of size in the All Blacks' outside backs to take the same sort of advantage that England did, either by making every kick in the direction of Kolbe and Arendse a contest, or by methodically testing the confidence of Willemse and Libbok at the back in isolation.
More's the point, they'll be able to employ the tactic with a lot more speed and precision than England did, making it an altogether more dangerous prospect for the Springboks.
And further, they'll do it from multiple angles, with Aaron Smith's box kick among the best in the game, and with Richie Mo'unga and Beauden Barrett both more than capable of kicking for a target. Everyone in black jerseys 11 to 15 can chase a kick just as effectively as Daly did all Saturday night.
Of course, Jacques Nienaber is a smart guy. So is Rassie Erasmus. They'll have reviewed everything England threw and kicked at them, and will already be working on positioning and everything else knowing that New Zealand will be trying to similarly exploit them.
Knowing what's coming is one thing, dealing with it in that moment another thing altogether, however.
England very nearly pulled of what would have been the upset of the 2023 Rugby World Cup. I didn't think they'd get anywhere near as close to South Africa as they did, but they almost pulled it off.
What South Africa learned from England's tactics will be really interesting to see play out at the Stade de France on Saturday night.
But what New Zealand learned from them might just be match-winning.