England's bronze medal win over Los Pumas robs World Rugby of an anything-can-happen billboard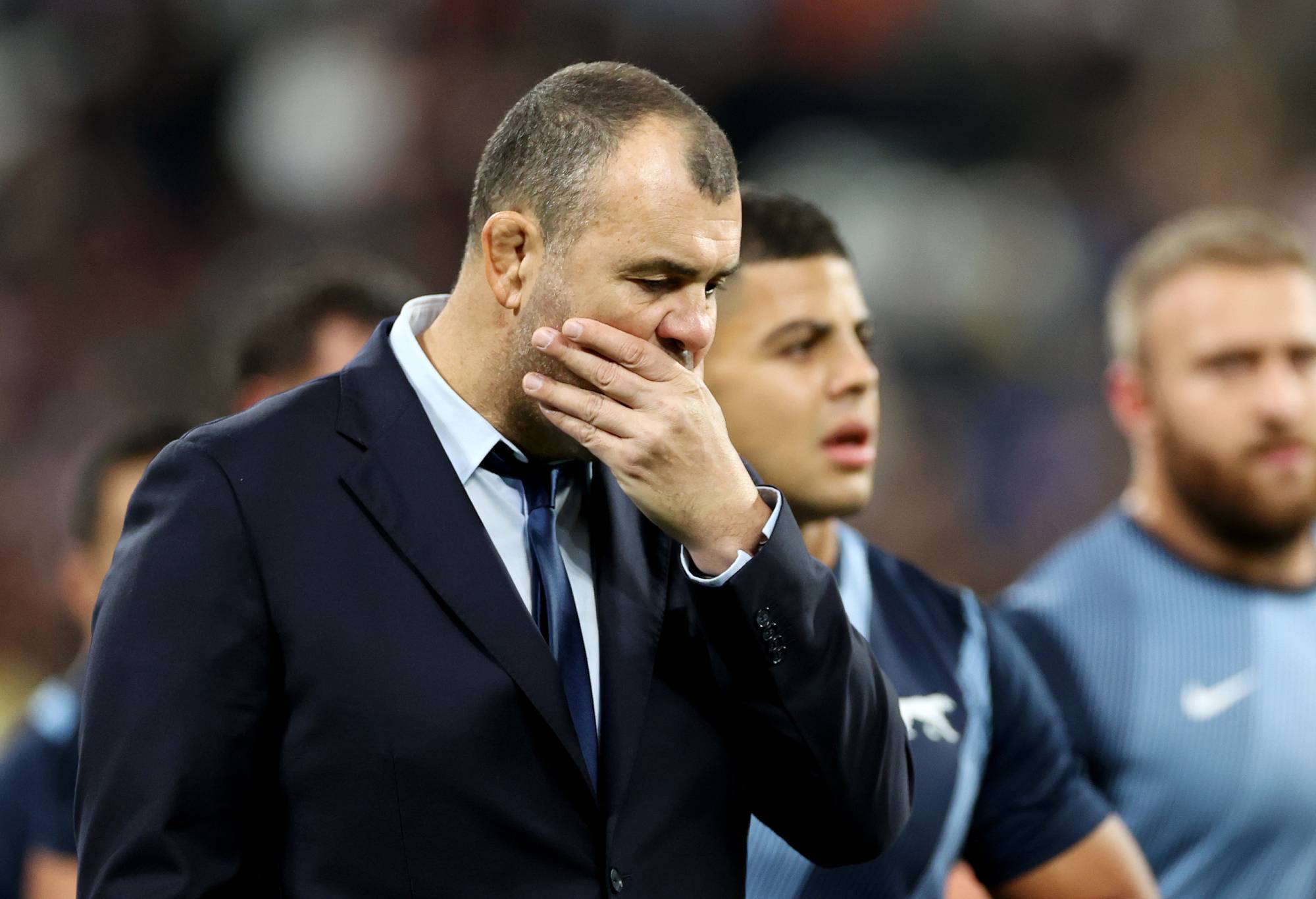 Two things hit you smack in the face from England's RWC bronze medal win over Los Pumas today — one, is that Three Lions head coach Steve Borthwick can loosen the straitjacket chords off his backline when he chooses to.
The other is Borthwick's counterpart, Michael Cheika, who had an unambiguous way of letting the world know when he didn't agree with the refereeing decisions in the 26-23 loss at the Stade de France in Saint-Denis.
All up, World Rugby will rue another missed opportunity to project a billboard of a whatever (England) beating a whoever (Argentina) in the 3rd-4th playoffs to reinforce the belief that upsets happen in rugby union.
Considering hardcore rugger fans and ex-internationals often classify the bronze match as, take your pick — akin to kissing one's grandma without her dentures or one's sister on the first date — the playoff was more exciting than either semifinal.
But, like any other entity that needs to be scrutinised to maximise its productivity, World Rugby needs to review such games in light of coaches who have reservations about how things have panned out. That fans, regardless of parochial ones on the losing side or "neutrals", also become major stakeholders because instilling faith in a code's transparency is imperative.
"The players deserved better today," Cheika lamented during the post-match interview. "I'm totally disappointed for everyone — our crowd and the people."
Whether the Argentines had deserved to prevail is a moot point. Had they attempted to convert penalty kicks in the opening 15 minutes, the final 10 minutes would have had a different tempo.
However, his gripes are well founded. Referee Nic Berry had ignored No.8 Facundo Isa's repeated requests to check prop Ellis Genge's shoulder hit on his chin after he had passed the ball. Isa played only 39 more minutes.
Here's Cheika's inconsistency call — Berry had asked TMO Ben Whitehouse to check not only a stiff-forearm fend from ball-carrying Pumas winger Mateo Carreras but also another one on England captain Owen Farrell as the South Americans piled on waves of attacks deep in the English half.
England fans disputing halfback Tomas Cabelli's try in the 36th minute is worthy of analysis. As winger Emiliano Boffelli had lined up to convert, Berry had gone up for a Whitehouse clarification. He had deemed it a try. The angle of the TV camera from behind had given the impression of a forward pass but, obviously, the bunker shots had endorsed otherwise.
Cheika was up like a yo-yo, venting his spleen in the 53rd minute when Berry had extended his arm out to play advantage to the Pumas 10 metres out of the England try line for a rash of infringements in rucks, but reversed his decision to award the defending side a relieving penalty for an Argentina rucking foul.
No doubt, there were several other glaring inconsistencies both ways. That is not to say the officials are perfect. It simply means they lack consistency, especially when they enjoy four-point control.
Sorry, Sir John Kirwan, but there's no such thing as "unconscious bias". When the whistle blower, figuratively, has his back turned to one team more than the other, the TMO and his assistants should be in his ears.
The last words should go to Cheika: " … I know we're one of the lower nations, right, and we're not England or New Zealand or South Africa or any of those guys but, at the end of the day, it's hard and I feel for the lads …" You see, the Australian knows that finishing No.3 would have meant the world to his men — more than anything it means to former champions England.
In some respects, this match showed the mindset of the officials before the All Blacks v Springboks final kicks off at the same venue tomorrow morning (Southern Hemisphere time). They will do everything to ensure the game "flows". Cards of any description will not surface early in the encounter to rob fans of an "even" contest.