Eddie blames Rugby Australia for early exit as Woodward calls for Rennie apology, ex-ABs coach linked to role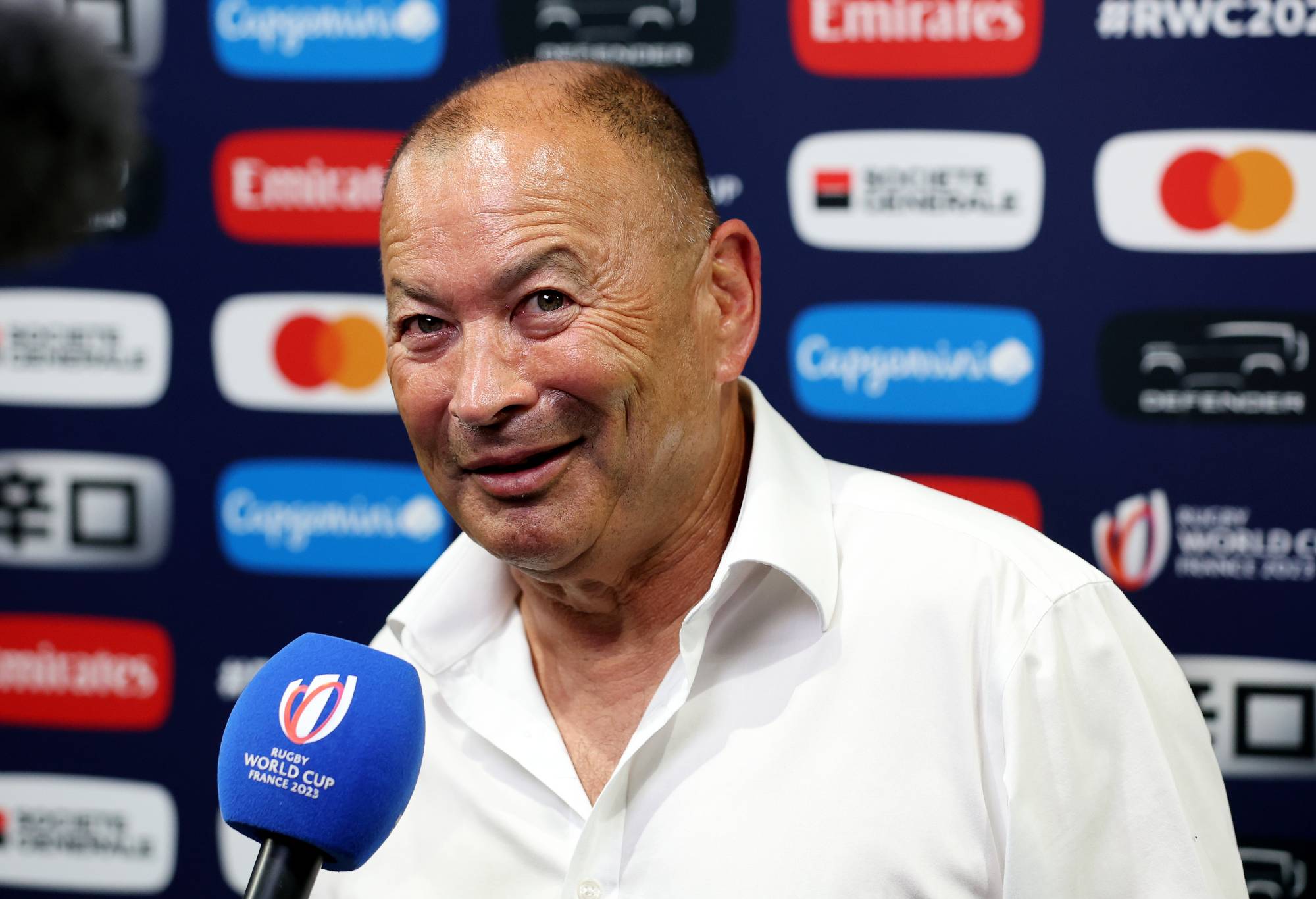 PARIS – As Eddie Jones offered up Rugby Australia's inability to deliver on promises contributed to his decision to walk away from the Wallabies, Sir Clive Woodward blasted the outgoing coach and said the governing body should apologise to Dave Rennie.
Rennie, whose winning percentage with the Wallabies was 38 per cent, was axed after three years in the job and put on gardening leave to make way for Jones' grand return.
With RA in the process of firming up their end of season review, the governing body will likely spend the next six weeks establishing their intended target.
As The Roar revealed on Monday, former Brumbies coach Dan McKellar would be available to walk away from Leicester Tigers if he was asked to return as Wallabies coach.
Current Brumbies coach and Wallabies great Stephen Larkham is a local candidate, while former national coach Michael Cheika, who says he will return to Argentina this month to firm up his next step following two years in charge of Los Pumas, will likely become available too.
Few other Australian coaches are likely ready to enter the head coaching conversation, while former foreign coaches Robbie Deans and Rennie aren't in the mix.
It would be an advertising dream for outgoing All Blacks coach Ian Foster to take over and go head-to-head with Scott Robertson, but despite saying he wanted to coach on the international rugby again and The Australian reporting he is in the mix to replace Jones, it's unlikely the New Zealander is a serious option.
RA, however, won't rule anyone off the table for now, especially given the monumental stuff-up this year.
Jones, 63, put weeks of uncertainty and unrest to bed over the weekend, as he resigned from his Wallabies post less than one year into a five-year deal.
His ugly departure occurred mere weeks after the Wallabies embarrassingly missed out on the knockout stages for the first time in the 10 editions of the World Cup.
Their failure to progress to the quarter-finals, as well as their winless Rugby Championship and Bledisloe Cup campaign, has heaped pressure on Rugby Australia, particularly chairman Hamish McLennan, for parachuting Jones into the head coaching role in mid-January at the expense of Dave Rennie. McLennan insists he is the right person to lead RA forward as chair.
What's more, the antagonistic nature of Jones, his decision to leave out several household names from his World Cup squad and unnecessarily harsh comments, particularly about former Wallabies captain Michael Hooper, saw the veteran coach lose support. His running battle with the media only made it look all the uglier.
His integrity once again came up for question, as, in the face of reports linking him to a Zoom interview with the Japan Rugby Football Union in late August, Jones repeatedly said he was "committed to Australian rugby" over the past six weeks.
Now, having waved the white flag and hit the eject button, those comments look all the worse.
Before jumping on board, Jones had been assured that he would have adequate funding to be able to the Wallabies from chumps to champs.
But, with private equity firms not convinced to invest given their current broadcast deal and Australia's professional sides struggling, the touted $200 million injection never occurred.
Nor has RA chairman Hamish McLennan been able to usher through the reform measures he desperately wanted, with his high-performance and commercial alignment goals far from across the line.
Given the current landscape, coupled with the Wallabies' dreadful campaign, that was all Jones needed to bail.
"I did want to go on but coaching a team is a bit like being in a marriage, you need commitment from both sides," Jones told Nine News.
"I was committed to change the team but Rugby Australia at the moment can't activate the resources which are both financial and political to get the change in place to make real change for Australian rugby.
"I don't like to be in projects I don't think that can really get to where they need to get to. And I've made that decision, I don't think that's the case. Rugby Australia probably doesn't think that and that's where the unity of our project is not in a place it needs to be mate.
"Sometimes you go into the bank and you blow it up mate and you don't come out of the money. And that's part of the deal as we said at the start we're going to do a smash and grab. So we got the smash, we didn't get the grab."
Jones had been warmed about the current landscape before returning in January.
Some of his closest confidants told him not to take the role.
Jones, however, initially thought there was enough talent to ensure a "smash and grab" job.
Yet, as reported by The Roar over the past month, Jones had an exit clause to enable him to leave after a year if certain reform measures weren't across the line.
RA was willing to work with Jones, believing he could still turn the ship around, but the coach confirmed it was he who made the first move about calling time just one-fifth of the way through his contract.
"We had a discussion about it, I made the initial approach and it's been a mutual agreement," he said.
"The contract was designed so that after 12 months, if certain conditions weren't met then there was an opportunity for either party to walk away, and that's been the case.
"I think it's the best decision for Rugby Australia, for the Wallabies, and for myself."
Jones continues to be linked to a second interview with the JFRU next month, with the Australian to return to the Land of the Rising Sun to spend time with his wife. Jones' daughter also lives in Japan.
However, he maintains "there is nothing on the horizon" and had "never" received a job off from the JFRU.
"I've come in and I've done the job I was asked to do. I haven't produced the results I was asked to get, I understand that," he said.
"I was 100 per cent committed. The only thing that's disappointed me is the media trying to create a situation where they're trying to make it out like I haven't been committed to the job.
"I've got no job to go to, I've got no job offer, that's never been the case. You can run whatever story you want, but my commitment to Australian rugby has been absolutely 100 per cent.
"The only thing I judge myself on is the commitment I've given the job. We haven't had the results we wanted to have … but I went into the job knowing that I had to make change. I've made some of those changes, but the changes that I would dearly like to make are not available to me at the moment, so it's no use me continuing."
For months there have rumours of Jones' relationship with McLennan tense.
McLennan has maintained that's not the case and they regularly shared messages over the past three months.
Jones said it wasn't uncommon for rumours to surface when teams underperform.
"I think it's healthy enough," said Jones of his relationship with McLennan and RA chief-executive Phil Waugh.
"I know when these things happen all the drums beat. 'Bad relationships', 'lost the dressing room', 'lost the administration', they're all the normal things that come out. I don't think that's the case."
Meanwhile, Woodward, who beat the Australian in the 2003 World Cup final and has been one of Jones' biggest critics in recent years, said he would be surprised if the JFRU wanted to go near his former coaching colleague given the veteran coach's public fall from grace.
"Every Australian I have spoken with is just shaking their head over the whole situation," Woodward wrote in his Daily Mail column.
"But this outburst and especially Jones' language has just poured oil on the flames.
"It is really embarrassing for Rugby Australia and I would be very surprised if the Japanese Rugby Union would allow or condone this type of behaviour.
"Jones is coaching the Barbarians – a side with great standards and tradition – this weekend and I am sure the last thing they would want to be associated with is stuff like this.
"The real loser in all this Dave Rennie who I thought was very harshly sacked to make room for Jones. Now, less than a year later, Australia are back to square one.
"In fact, they are in a far worse position than square one! Rugby Australia owe Rennie a real apology."