Haka drama, bad blood and the rematch of the year: Five things to watch in the Pacific Championships and beyond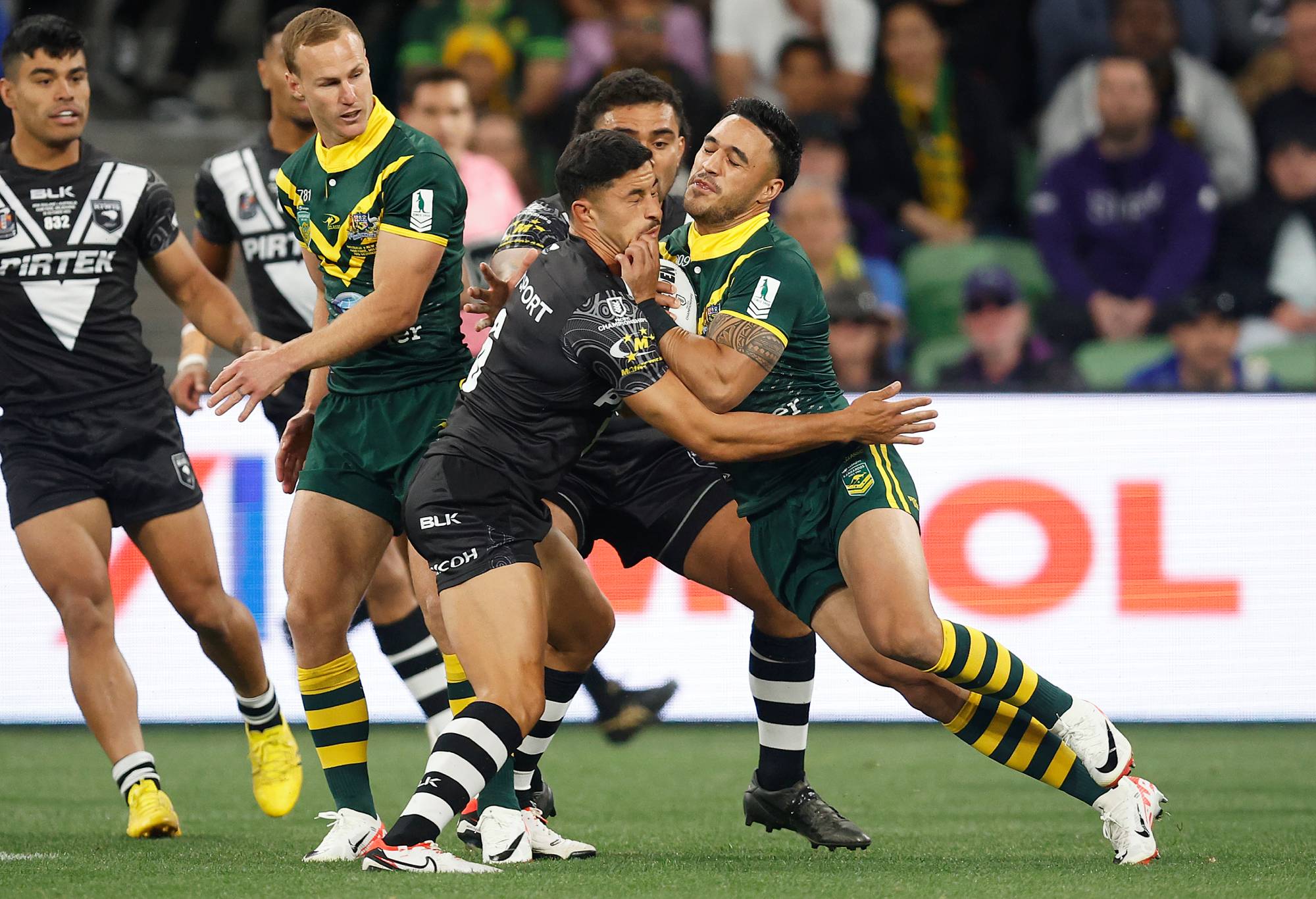 The end line is in sight. As dribs and drabs return to club training for 2024, the last games of 2023 will take place this weekend with the culmination of the international season.
We're set from some belters, too. Australia will take on New Zealand in Waikato for the big cup of the Pacific Championships, with the Kiwis smarting after a defeat in the dress rehearsal at Melbourne last Saturday night. Expect the pause between the end of the haka and the start of the match to be six or seven hours long.
Then it's over to England, where Tonga will attempt to save some face at the end of a series that has gone a long way to rehabilitating the Test series as a concept. 
Remember, there's no dead rubbers if you've generated enough bad blood over the first two games, as has happened here, and Game 3 is a full on grudge match.
They'll all be mates again when the final whistle blows in Leeds, but until then, let chaos reign. 
The elite men's footy ends in Port Moresby, with the Pacific Championships second tier clashing PNG and Fiji for a second time in succession. The Kumuls will, as ever, be roared on by rugby league's most passionate fans and will hope to avenge last week's defeat.
There's England v Wales Women, too, and a rematch of last year's Wheelchair Final too. Strap in for your final footy fix of the year. Here's what to look out for.
What next for the Kangaroos?
Being the best isn't easy – just ask the Jillaroos. You're everyone else's cup final and any loss at all is catastrophic. Even if you don't win by enough you can come in for criticism. 
That's doubly so for the Kangaroos, who have half of their own fans secretly (or not) cheering for the opposition, knowing that the big dogs losing tends to be positive for the international game as a whole.
That's not Mal Meninga's concern for a second. He's about winning, winning well and continuing to keep the boot on the throat of Test footy.
To that end, it's back to full strength this weekend with Nicho Hynes, Jake Trbojevic and Tom Flegler back to the reserves and Tino Fa'asuamaleaui, Payne Haas and Liam Martin returned to the 17. 
Only Selwyn Cobbo misses out from the side that played Game 1 against Samoa, and that's because Val Holmes was suspended.
Mal is the most noted pick-and-stick merchant around, and given that the side always win, why shouldn't he be? 
That said, it all works until it doesn't. New Zealand away is perhaps the toughest test Australia ever get, especially if Waikato is rocking on Saturday afternoon. They'll be fired up and ready to go. As ever, it's up to Australia to spoil the party.
Can the Kiwis score enough points?
Whether New Zealand can get going or not is intrinsically linked to their ability to score enough points. 
The Kangaroos don't have a defensive weak link and barely looked troubled for the bulk of their win in Melbourne last weekend. 
The main problems for Madge came from his side's lack of penetration, with Dylan Brown suppressed by the Australian defence, Jahrome Hughes quiet and Joey Manu unable to get enough footy.
Their best route to victory would be through the Roosters superstar getting more of the ball in better positions, and while he has been named at centre again, don't expect him to stay there if the Kiwis need points.
It bears repeating: Manu got 17 touches for 15 runs last weekend, about average for a centre and in line with his Roosters numbers in that position, but nowhere near enough if the Kiwis are serious about getting maximum benefit from their best player. 
When he's played in the halves or at fullback, those numbers skyrocket without any drop off in output, meaning more is very much more with Manu.
Last week the Kiwis didn't get enough ball in general, with 34 sets to the Kangaroos' 39, and they didn't play fast enough, with time in possession only 90 seconds apart from Australia despite having five fewer attempts with the ball.
If they can fix that part of the game, then they'll get more opportunities to get the ball to their three best creative players, who should be able to pose more of a threat.
Maguire has backed his side in with no changes to the 17, doubling down on his strategy, though in truth, with Naufahu Whyte, Wiremu Greig and Keano Kini as his reserves, there are limited levers that he could have pulled.
Still, there's plenty in this Kiwis side that can challenge Australia. Now, they just have to go out and do it.
Can PNG bounce back?
Lowkey the best part of this Pacific Championships has been the section over in Port Moresby, and that comes to a head this weekend with the rematch between the PNG and Fiji.
The Bati battered the Kumuls first time around, with far too much top level talent, but will face a host nation that has been delivered a kick up the collective backsides and, undoubtedly, will be coming in off the back fence in an attempt to send their fans home happy. 
Alright, PNG know no other way than hard and straight, but they'll be doing it even more than usual with Roderick Tai and Nixon Putt, two of the prime back fence merchants around, coming back into the side.
Sunia Turuva is out for the Bati, too, which removes one of their best creative outlets, and plenty has been moved around on the bench with Watisoni Waqanisaravi and Pio Seci in. 
PNG were perhaps hamstrung last time around by their Super League contingent's lack of match practice – Rhyse Martin was playing his first game in six weeks and Edwin Ipape his first in a month – and will be better this time around.
Fiji had a few like that too, but are less reliant on their very best to be on it all the time. They'll know that last week counts for nothing, especially with the trophy up for grabs this week.
PNG smashed the Cook Islands. The Kukis nearly beat Fiji. Fiji cruised past PNG. It's all very delicately poised, but you can guarantee Sunday's game will be anything but delicate. 
Can Tonga salvage pride?
Tonga's trip to England hasn't been as bad as two games, two defeats looks. If they get whitewashed, however, it'll be hard to defend for Kristian Woolf, who had a pretty much full strength squad to pick from against an England side with more than a few notable outs.
Their comments after Game 1 – which Addin Fonua-Blake was suggested a game they lost, rather than England won – went straight on the dressing room wall for Shaun Wane's men, and clearly riled a few of his men up. 
Throw in some traditional English conditions for Game 2 and the series was sealed, with the hosts far better at coping with a very soggy track in Huddersfield.
It's not really been a 3-0 kind of series, but as it moves towards a conclusion at Headingley this weekend, that is very much on the table. 
England can bring back George Williams into the halves after suspension and will add Morgan Smithies, newly minted as a Canberra Raiders player, for a debut. 
England are perhaps underrated due to their limited number of NRL players and a general disrespect for Super League, but they have dealt with Tonga fairly easily so far.
As was proven last week (and over many, many years with Wigan), Wane is an expert in turning perceived slights into fuel for his players. Now, Woolf will have to do the same to save some face for Mate Ma'a Tonga.
Has this tournament been a success?
As we round the final turn for the Pacific Championships, what have we learned. First and foremost, it's great to have international footy back on, being played out around the world in venues big and small.
By next weekend, there will have been 37 international fixtures played since the club season ended, from Huddersfield to Hamilton, Port Moresby to Pretoria and points in between, all within a six week period.
Some will be grand, like this weekend's heavyweight clash between the Kangaroos and Kiwis, while others will be less so, like the five games the Netherlands have schlepped around Europe to play (and win).
There have been elite and emerging men's and women's games, and the best is yet to come,
On a weekend of big rematches, we get the biggest of them all with a repeat of last year's spectacular Wheelchair World Cup Final – the best rugby league your correspondent witnessed anywhere in 2022 – scheduled for Sunday in Leeds between champions England and France. Don't miss it.