NRL 2024 season draw REVEALED: Sharks get another cushy run, Warriors' Anzac Day honour, Storm cop rough treatment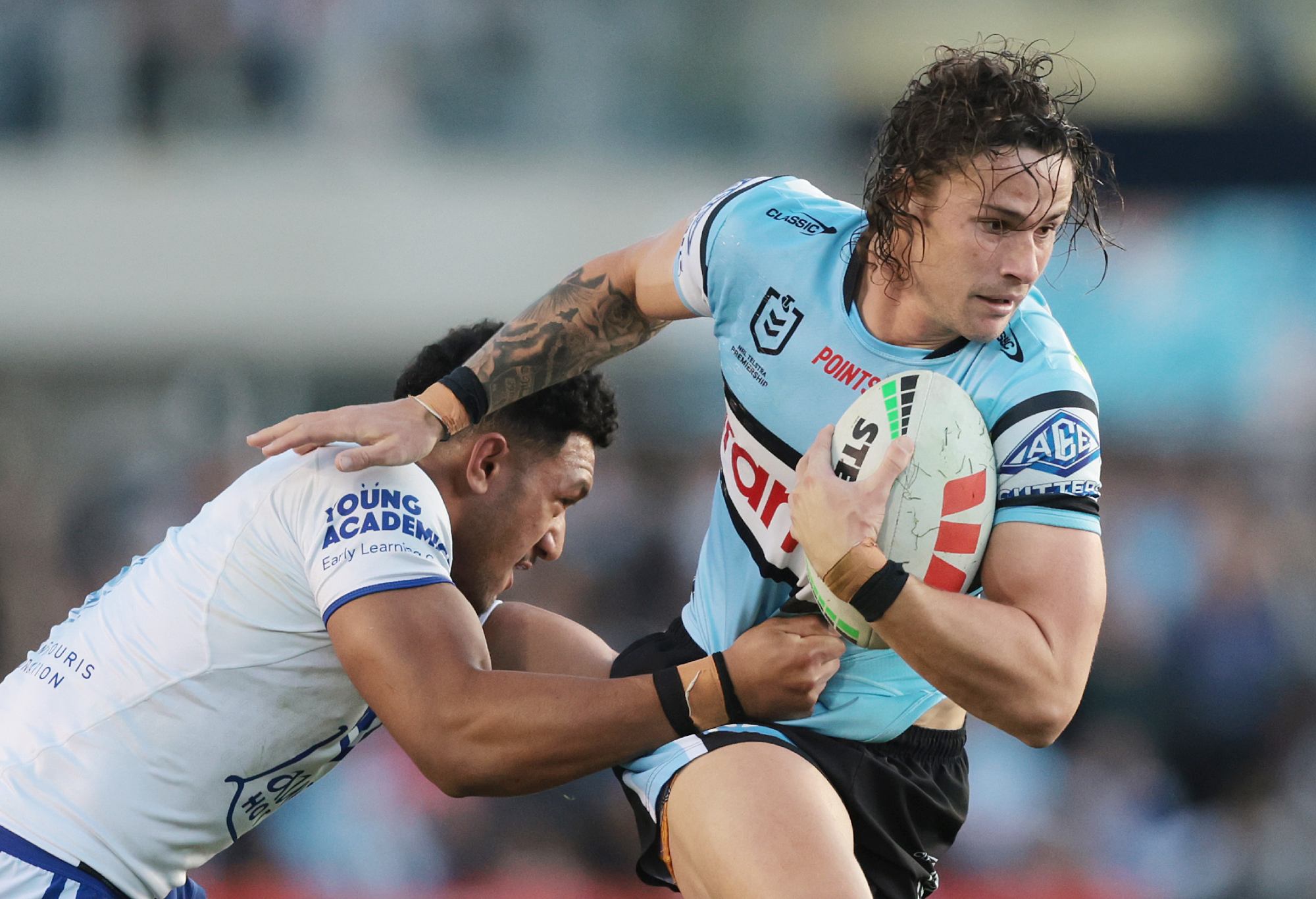 Cronulla have emerged as the biggest winners of the NRL's 2024 draw, handed what is theoretically the easiest schedule of all 17 clubs.
The NRL announced its 2024 fixtures on Monday, heralding a new era for the game with Manly and South Sydney kicking off in a Las Vegas double-header on March 2.
Matches will also be played in Christchurch, Bundaberg and Darwin, while the Perth double-header has become a single fixture after the Rabbitohs pulled out.
The grand final will be held on October 6, with the event to again include deciders for both the men's and women's competitions.
Women's State of Origin will also go to three games.
The series opener will be played at Suncorp Stadium on May 16 as the Thursday fixture in Magic Round, before games in Newcastle and Townsville on June 6 and June 20 respectively.
The Warriors will also host a game on Anzac Day in New Zealand for the first time since 2015, with Gold Coast to travel to Auckland and South Sydney to take Andrew Webster's team's spot at AAMI Park against Melbourne.
But it is the Sharks who should walk away from Monday the happiest, after bowing out of the first week of the finals this year.
Craig Fitzgibbon's men only have nine games against 2023's top-eight teams, the lowest of any club in the draw.
They also only play the Warriors twice out of last season's top four, while facing all of the bottom four from 2023 two times.
In contrast, Melbourne have suffered the toughest run.
Craig Bellamy's perfect round-one record will face its sternest test against Penrith on March 8.
And in what looms as potentially the coach's last season in charge, the Storm only play one team from outside last season's bottom nine in the opening eight rounds.
Melbourne also cop all other teams from last season's top four twice, while playing 12 of a possible 14 games against the 2023 finalists.
Parramatta and Souths have also been handed a rough path back to the finals after last season's disappointments, with 13 games against the top eight from 2023.
Making matters worse for the Eels is an uncanny sense of deja vu.
After they were handed three straight games against fresh clubs early in 2023, Parramatta have the equal-most next year with five across the whole of 2024.
Clubs such as Manly and St George Illawarra have no such match-ups.
The Sea Eagles also have no five-day turnarounds, while the Eels are one of six clubs with three spread throughout the season.
Newcastle, meanwhile, have walked away as the biggest winners on the commercial front.
On the back of 2023's Kalyn Ponga mania, the Knights have increased from seven free-to-air games last season to 12 in 2024.
South Sydney have also ended Brisbane's long-standing run as the game's most watchable team, claiming 14 free-to-air games to Brisbane's 13.
Des Hasler will have to wait until July for his return to Brookvale and will be made to face Manly twice as part of his new club Gold Coast's 2024 schedule.
Gold Coast will first host Manly on Saturday April 20, before travelling to Brookvale Oval for a free-to-air match on Sunday July 21.
Sea Eagles recruit Luke Brooks is poised for a boisterous reception when he finally meets his former side Wests Tigers on the road in round 25.
Brooks joined Manly after failing to inspire a finals berth across his 11 seasons at the Tigers, whose one chance for revenge comes at spiritual home Leichhardt Oval.
"A lot of ex-players get booed there," Brooks said. "I wouldn't mind playing there again. It'd be good."
Elsewhere, Jack Wighton will be back in Canberra with new club South Sydney in round 21 for the sides' only meeting of the season.
Canterbury's marquee signing Stephen Crichton faces his former side Penrith just once as well, at BlueBet Stadium on a Friday night in round 10.
Cronulla's only premiership-winning coach Shane Flanagan faces the old firm with his new side St George Illawarra in rounds nine and 25.
The first clash will take the new Dragons boss back to Shark Park on a Sunday afternoon in early May before his side hosts Cronulla in August at WIN Stadium.
KEY NRL DATES IN 2024
March 2: Las Vegas season opener (Manly v South Sydney, Sydney Roosters v Brisbane)
March 21: Penrith v Brisbane (grand-final rematch in round three)
May 16: Women's State of Origin I, Suncorp Stadium
May 17-19: Magic Round, Suncorp Stadium
June 5: Men's State of Origin I, Accor Stadium
June 6: Women's State of Origin II, Newcastle
June 26: Men's State of Origin II, MCG
June 27: Women's State of Origin III, Townsville
July 17: Men's State of Origin III, Suncorp Stadium
October 6: NRL and NRLW grand finals
Loading…