Don't mention the war chest: NRL gearing up for rugby raid makes strategic sense but won't change much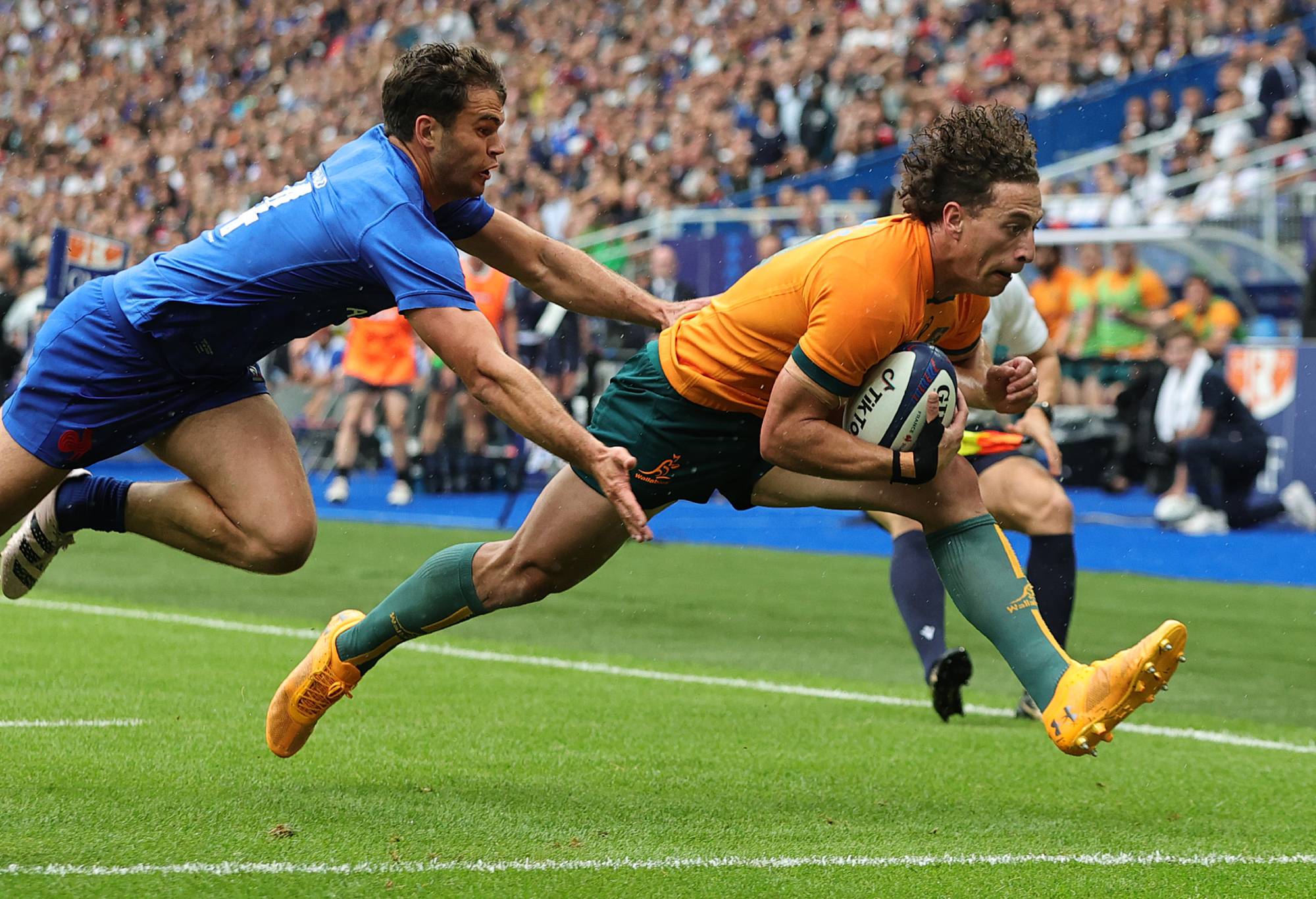 If the ARL Commission decides to dish out exemptions for NRL teams to poach rugby talent, it's a strategic move rather than one that will change the landscape much at all. 
NRL chief executive Andrew Abdo has confirmed the Commission will discuss the potential move at an upcoming board meeting but has indicated clubs won't be given an open chequebook to take their pick of the finest from the Wallabies or elsewhere. 
Young outside backs Mark Nawaqanitawase and Max Jorgensen are the players at the top of the NRL hit list and they would probably make handy acquisitions if lured to the 13-player code. 
But it wouldn't move the needle much for the NRL which has a steady stream of young talent progressing through its imbalanced yet strong pathways system at its 17 clubs. 
A system allowing NRL exemptions for rugby talent is more about a "chequebook swinging" exercise between the executives who have been duking it out in a phoney media slanging match for many months. 
The rugby side of the equation has been a lot quieter in recent times following the Eddie Jones experiment failing spectacularly and the bean counters at head office realising the rivers of gold that are set to flow from hosting a Lions tour and a couple of World Cups won't last forever. 
This is a crucial time for rugby in Australia – if the Wallabies overpay for their own talent or imported stars from the NRL, they could quickly find themselves in a similar situation to 15 years ago when huge sums were spent on Wendell Sailor, Mat Rogers and Lote Tuqiri which failed to deliver long-term dividends, especially once all three headed back to league. 
Abdo insists the current chatter around proposed rugby poaching exemptions are nothing to do with Joseph Suaalii being lured into a code switch, which is probably totally true because the young Roosters star's departure has not done that much damage to the NRL. 
Sure, the Roosters and Rugby League Central would prefer to keep him but whether it's Reece Walsh, Sua Fa'alogo, Jahream Bula or Ezra Mam, league has an uncanny ability to swiftly find the next "next big thing" to keep fans engaged.
The NRL empire is striking back strategically against the old republic in a move which will hinder rugby even if it doesn't result in more than a handful of Wallabies candidates jumping ship. 
At the very least, the increased possibility of an NRL club having a loophole to sign rugby talent will drive up the asking price of rising stars like Nawaqanitawase and Jorgensen. 
Put it this way, their agents wouldn't be unhappy with the recent media coverage around those two being in the sights of NRL clubs.
Rugby Australia called Angus Crichton's bluff when word leaked out about his high asking price to return to the code he played as a schoolboy. 
It's going to be harder to do so with existing Wallabies talent, particularly Nawaqanitawase and Jorgensen, when there are very few players of any profile in the rugby fold who will generate interest, and most importantly, victories as the team tries to restore the lustre lost from the short-lived Calamity Jones coaching tenure.
The poor old rugby forwards will be left in the lurch again – not even the most rat-cunning of agents will try to play the NRL card when negotiating new deals for their clients if their jersey number in eight or lower. 
It's always been extremely hard for players on either side of the rugby divide to successfully switch. 
For every Michael O'Connor, Ray Price or Ricky Stuart in the pre-professional/shamateur era, there were many more examples who struggled in the league ranks like Tony Darcy, Brett Papworth and Garrick Morgan. 
In the modern era, the best young talent that has a foot in each camp usually chooses one code over the other well before they finish high school and for every year they spend in league or union, their affinity and adaptability lessens dramatically. 
Signing talent at the youth level is one of rugby's major disadvantages when compared with league in Australia. 
There are so many more professional roster spots, promises and fringe benefits at the 16 Australian clubs for a teenage prodigy that sets their sights on the NRL goal compared to the five Super Rugby franchises. 
It's not the headline-grabbing move but long term, rugby could set itself up for a rosier future if they were more competitive at the bargaining table when precocious teens have an option in each code. 
Rugby will never be able to sign them all, just like the NRL can't cherrypick all the young rugby talent on the vine.
But if they can prevent the ones who grew up dreaming of Wallaby gold being seduced by the NRL side of the force (of the Star Wars, not Western, variety), then their chances of winning Tests on an ongoing basis and perhaps even making the World Cup quarters will be a lot stronger. 
And the irony of it all is that Abdo, who grew up in South Africa where rugby is king and league is nothing more than a novelty, is now trying to formulate a plan which will ultimately result in the opposite scenario being true in Australia.