Ace of Chase: Cummins, Starc steer Aussies into World Cup decider after classic semi as Proteas' knockout curse continues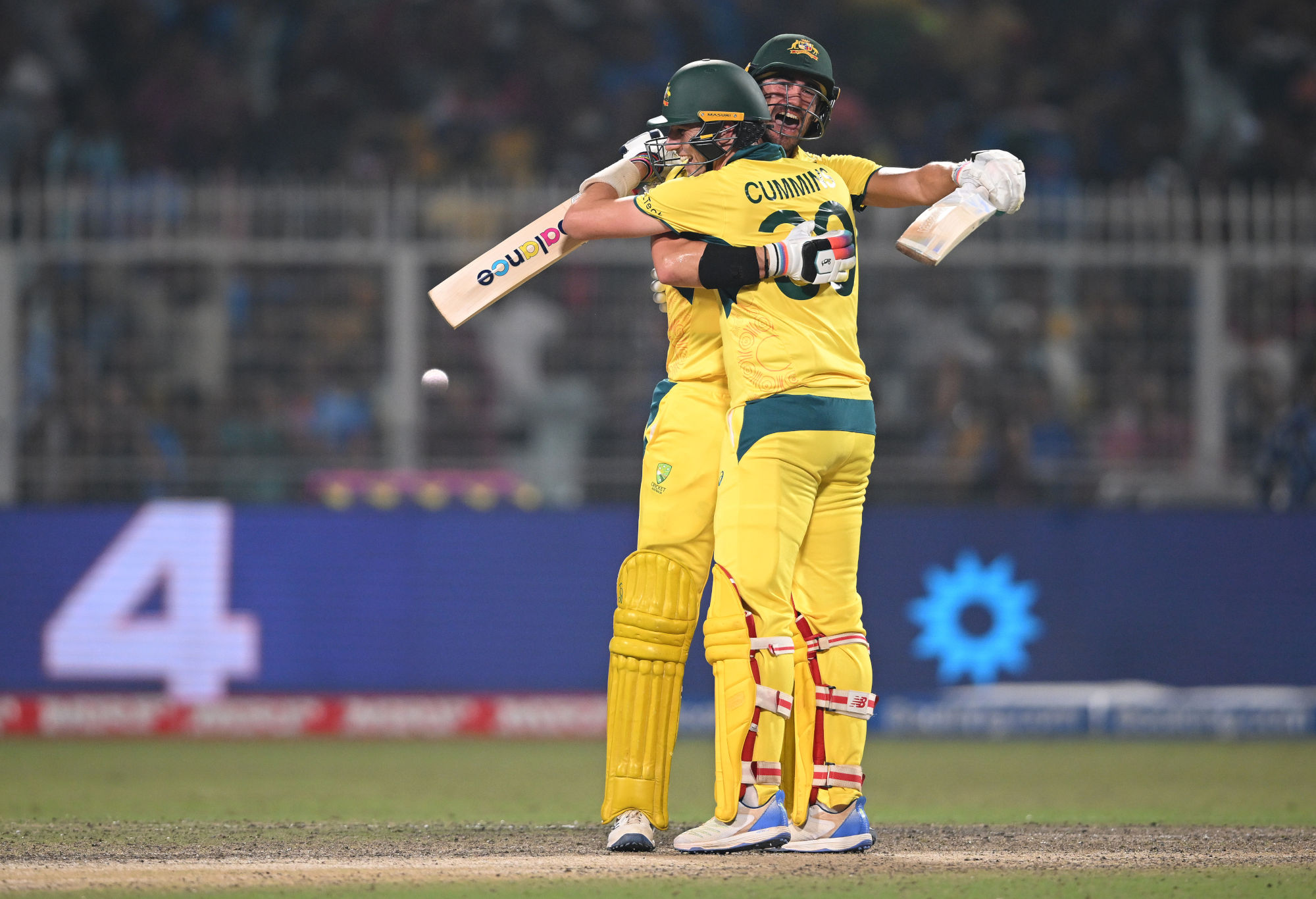 24 years ago, at Edgbaston, Australia and South Africa locked horns for the most famous ODI in history, ending with scores tied on a number that would be written into cricket folklore: 213.
So it was only fitting that, as the two teams once again battled for a spot alongside India in the 2023 World Cup final on a spicy Kolkata pitch that offered everything to bowlers its brother in Mumbai lacked, that that number would again be front and centre in Australia's thrilling three-wicket victory, in a contest that might not rival its English counterpart for greatness, but could surely match it for pure tension.
This time, it was Australia's target to chase, having restricted the Proteas, despite both a Herculean century from David Miller and their own imperious record batting first this tournament, to a mere 212 thanks to a stunning display with the new ball from Josh Hazlewood and Mitchell Starc, and a crucial double-wicket cameo from a nominal part-timer in Travis Head.
Such a chase, on a pitch turning sharply and with the added pressure of a World Cup final on the line, was never going to be easy, as the Proteas themselves found out on that fateful day in 1999 that cemented a nation's cricketing stereotype, one that remains unbroken.
7/193 after last recognised batter Josh Inglis was castled by the lionhearted Gerald Coetzee with 20 still to get, the Proteas must have dared hope the curse of heartbreak that hovers over them at every major tournament could at last be exorcised.
But Starc and Pat Cummins would succeed where Lance Klusener had failed, calmly ticking off the remaining runs in a 45-ball stand that hearkened back to the captain's equally ice-cool successful chase with Nathan Lyon to give Australia a 1-0 Ashes lead at Edgbaston – that venue again – earlier this year.
For it was that Edgbaston thriller, it transpired, that this contest would mimic, down to the winning runs from Cummins, a controlled squirt behind point that raced away to the boundary for four to seal the tensest of run chases.
The only difference? The muted celebrations from the Australian camp, no doubt saving energy and enthusiasm for Sunday night's date with India (or perhaps they too had exhausted their reserves merely watching the tally slowly trickle down).
"I think it's easier out there [batting] than sitting in the dugout – it was a nerve-wracking couple of hours," Cummins laughed after the match, before describing Head's pair of crucial wickets as 'crazy'.
"He [Head] just has this knack of finding a wicket when you need one. That [double-wicket over] was huge.
"It's been a feature of the whole tournament, there's been different bowlers that chip in at little stages and take that middle-over wicket, and Trav was the man today."
For the Proteas, while hardly a capital-C choke reminiscent of World Cups past, there will be moments to rue: a difficult chance put down by retiring wicketkeeper Quinton de Kock off a Cummins inside edge with nine still to get and sub fielder Reeza Hendricks' shelling of a chance in the deep with Head on 40 earlier in the innings the most conspicuous.
But in truth, this was a match lost within the first hour of each innings, and by a team, not any of its individuals: the Proteas, having spent this tournament compiling vast swathes of runs when allowed to bat first, were reduced to 4/24 within 12 overs as stormy Kolkata conditions and some reckless shot-making gave Australia a stranglehold, before a wayward start with the ball from the quicks saw Head and David Warner blast 60 off their first six.
For the remaining overs, the Proteas were every bit Australia's equal, with Miller first rescuing the innings with a 95-run partnership with Heinrich Klaasen (47) and then combining with the tail for a spellbinding ton that singlehandedly gave his team something to defend, then spin pair Keshav Maharaj and Tabraiz Shamsi at their menacing best to force the Aussies, perfect start and all, to scrap for every run.
"We knew it would be a grind and a battle and is what it is," Head, adjudged player of the match for his breathtaking 48-ball 62 as well as the wickets of Klaasen and Marco Jansen with successive balls, said in the aftermath.
"We always had that positive approach. Even when there were a few wickets, knowing we tried to get ahead of the rate. – [but] I'm disappointed to get out the way I did.
"If I could have battled for a few overs, I felt like we would have been in a stronger position. It wasn't to be. Nice to front end it knowing how the wicket was going to play."
Having looked a spent force for much of this tournament, Australia's path to victory was set up by no one more than Starc, returning with a vengeance for an opening spell reminiscent of the left-arm destroyer of worlds he was in the 2015 and 2019 World Cups.
Proteas captain Temba Bavuma couldn't survive the first over before Starc found his edge; finding swing under cloud covering that told of impending rain but gave Australia the perfect bowling conditions so lacking this tournament, he and Hazlewood would concede just eight from the first five overs.
In what would prove his last ODI, de Kock's downfall, having bludgeoned four centuries while in India, would both be an ignominious way to end his final innings and sum up the stranglehold.
Looking to blast Hazlewood back over his head, the quick's extra bounce saw the wicketkeeper-batter badly mistime his lofted shot, Cummins back-pedalling from mid-on and taking an excellent catch to remove the dangerous opener for just 3.
So good throughout this tournament as well, Aiden Markram wouldn't long outlast de Kock, Starc's plea for a sixth over in his opening spell bearing fruit as he tempted the Protea into driving and found a thick edge for Warner to snaffle behind point.
Three down with just 22 on the board after eleven overs, the situation was dire: and grimmer still when Rassie van der Dussen fell too, the Proteas' hero in a tense run chase against Afghanistan to end the group stage drawn into an edge to Smith at second slip off Hazlewood in a scene that could have been ripped from a Test match copybook.
A rain delay after 14 overs – despite fears heading in the reserve day would need to be used due to impending Kolkata storms, this was mercifully the only unscheduled break – offered Klaasen and Miller a chance to reset and regroup, as together they began the job of turning the ship around.
A pair of lofted sixes off the introduced Adam Zampa, comfortably Australia's most expensive bowler as the leg-spinner struggled with his usual accuracy, spoke of Miller's almost unmatched bludgeoning power; with Klaasen following suit via two of his own in successive balls, the partnership would close in on three figures as they saw the Proteas to triple digits of their own.
Cummins' call to gamble on Head, with both batters set and approaching 50s, looked set to backfire when Klaasen pummelled consecutive boundaries to begin his spell: but it would be the South Australian with the last laugh.
Deceiving Klaasen with lack of turn, Head flattened his rival's stumps before sending him on his way with a cheery wave and a point to the dressing room: one ball later, sizeable spin trapped Marco Jansen plumb in front to give the Aussies their first look at a shallow Proteas tail.
Bringing up a half-century off a relatively sedate 70 balls, Miller was content to bide his time, he and Coetzee adding a valuable 53 for the seventh wicket with minimal risk save for another straight six off the recalled Zampa.
The leg-spinner's return, having proved expensive early, seemed Cummins' first misstep as captain; as it eventuated, Hazlewood's miserly figures of 2/12 off his eight overs to begin the innings were the sum of his contributions for the day.
An additional 57 runs from the final 10 overs meant the damage was minimal, Miller clubbing a Cummins slower ball for six over mid-wicket then flat-batting a catch to deep square leg a ball later the chief reason why – though Coetzee had his own contribution, choosing to keep a review in hand off a caught behind appeal that replays showed had clipped his shirt alone.
Save for another short ball from Starc being sent the distance by Rabada, Miller's defiant, superb knock's end would halt the innings as well: 212 on the board a far cry from a competitive total even on a tricky wicket, but more than the Proteas could have hoped for before the veteran's knock.
Having spent the better part of 50 overs making batting look constantly treacherous, the Proteas' answer with ball in hand was to open the stable doors and allow Warner and Head to bolt through.
In what would prove a tactical blunder, Bavuma opted to give his quicks first use of the new ball as Australia had done: while far from perfect, both left-handers relished the chance for pace on the hard Kookaburra, Warner up to four sixes by six overs as he dispatched Kagiso Rabada back over his head for six, then scooped him for six more off a subsequent free hit with the bowler having overstepped.
That two of his spinners jagged the wickets of the openers with their first two balls spoke volumes of the error in beginning with pace: part-timer Aiden Markram skidded one on to make a mess of Warner's stumps, before Keshav Maharaj, supposedly held back due to their reluctance to use the wily spinner against either left-armer opener, made said protection look foolish when he spun one through the gate to claim Head for 62.
In between, Mitch Marsh fell back to earth with a thud from his spectacular century against Bangladesh, scratching around for six balls, mostly against the spin of Markram, before being spectacularly caught in the covers by van der Dussen off a loose drive to Rabada.
At 3/106 and virtually halfway there, it was this exact situation which convinced Australia to pick Marnus Labuschagne over the more explosive Marcus Stoinis in their semi-final XI: but short of a few crisply swept boundaries, the Queenslander did little to suggest his hold on a spot in the team is iron-clad going into the decider.
Lucky to survive a plumb-looking LBW shout off an ambitious reverse-sweep when replays found Shamsi had spun one too far to have it hitting leg stump flush for a DRS ovverule, Labuschagne was just as disconfited as anyone by Shamsi and Maharaj's slowly weaving webs of deception.
His tally would read just 18 before another reverse-sweep this time had the umpire's decision, and ball-tracker, working against him – when Maxwell, like Marsh before him, proved the folly of expecting match-turning hands every week by being comprehensively bowled on 1 when a Shamsi slider skidded past his heaving bat looking to mow to leg.
It fell to the most inexperienced hand, together with the wisdom of Smith, to restore order: shelving all his attacking, risky shots and content to compile, wicketkeeper Inglis would add 37 priceless runs in partnership with the champion.
Needing a mere 39 runs from 17 overs and with Rabada forced to return to Coetzee and Rabada, the game seemed won: only for Smith to reopen it with an unsightly heave across the line to top-edge Coetzee straight up, de Kock making a difficult chance under the skier look supremely easy.
Sports opinion delivered daily 
It would be Coetzee who would take over from the spinners in keeping the Protea flame flickering: only in the squad, never mind the team, due to a pre-tournament injury to express paceman Anrich Nortje, the feisty quick became Bavuma's roll of the dice with an eight-over spell that nearly paid dividends.
Inglis would depart within sight of the finish line to give Coetzee the scalps of both set batters – and fuel the 23-year old's penchant for wildly celebrating – as he played over a straight one to have his furniture disturbed.
The Proteas' desperation for more wickets reached its peak when a furious LBW review off Cummins' first ball was reviewed at the insistence of an adamant Coetzee, only for replays to quickly show the ball had pitched half a foot outside leg stump – unsurprising considering the around the wicket angle the Protea was using to discomfit his opposite number.
Taking minimal risk, and with plenty of time in hand, it was Cummins and Starc who would see them home in the end; content to see off the threat of Maharaj and Shamsi, and with Coetzee finally worn down, Jansen's return brought with it a pair of rare boundaries, and with the second the match.
"Quite hard to put into words," a crestfallen Bavuma said after the match.
"Our character game through there, a bit of resilience, also a bit of dogfight. But looking at the result of the game, the way we started with the bat and the ball was probably the telling point, where we lost it quite badly there and always had to play catch-up to get ourselves back into the game."
For Cummins, an eighth World Cup final – more than any other nation – is a sweet reward for months of toil off the back of a gruelling Ashes series, and should hold them in good stead going into a clash with India in which they will be comfortable outsiders.
"A few of us have been there for a final before [in 2015], so we can draw on that," he said.
"The stadium's going to be packed, it's going to be pretty one-sided I reckon, so you've just got to embrace that.
"To be out there in a final in India, in the world's biggest stadium [Ahmedabad] – it's a very happy changeroom in there at the moment.
Loading…