Which champion team is greatest in World Cup history? India one win away from rivalling best of all time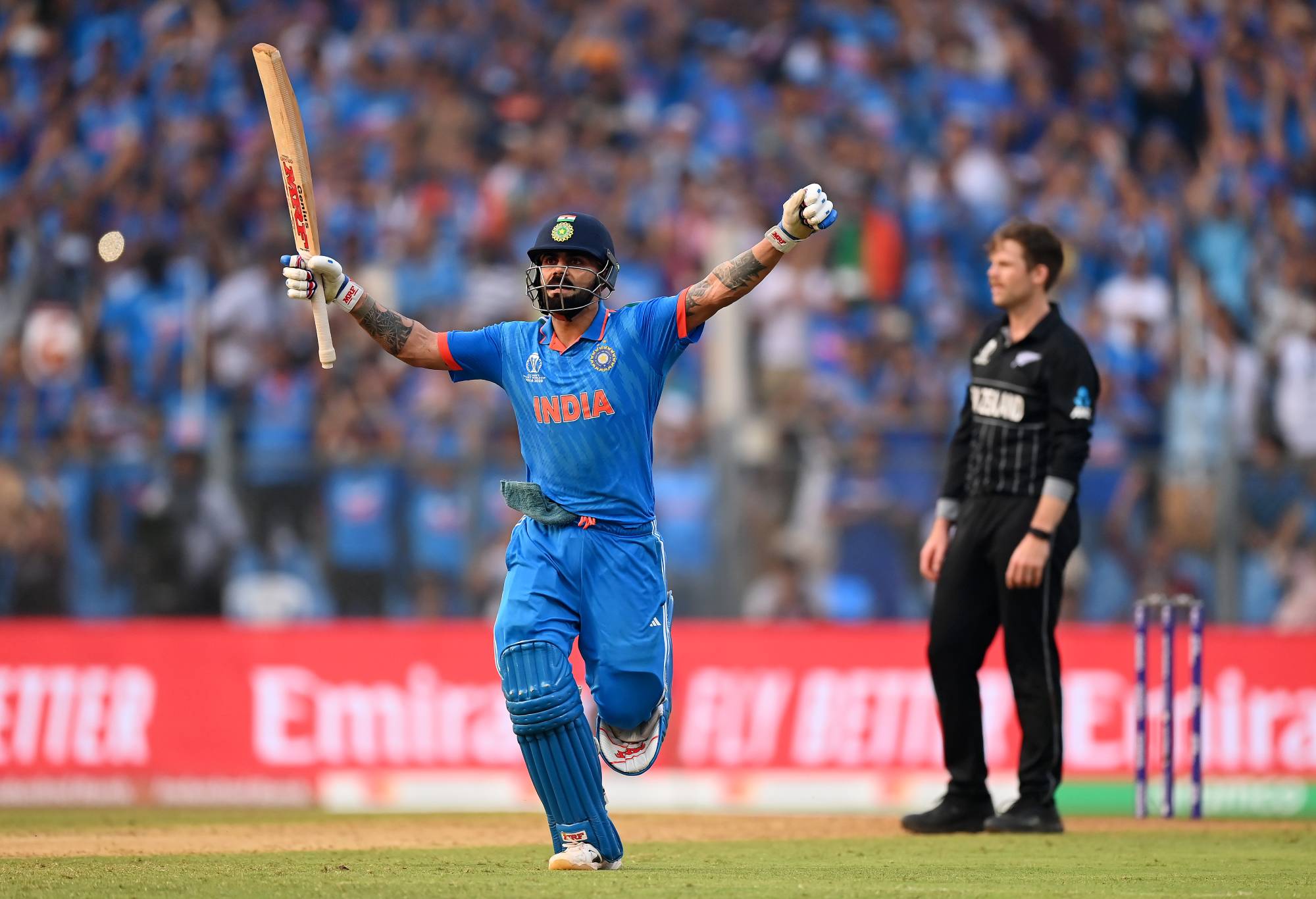 The 13th World Cup champions will be crowned on Sunday night at Ahmedabad's Narendra Modi Stadium when India look to become just the sixth team in history to go through the tournament undefeated. 
Five-time champs Australia are all that's standing in their way as they pursue a slice of history after their semi-final victory over South Africa. 
India have been vastly impressive but they're not invincible while the Aussies are still yet to put together a complete performance and despite winning eight on the trot are a flawed line-up. 
If the Indians can fulfil their destiny of an unbeaten march to the trophy, their all-powerful line-up will have a claim to be considered up there with the best in ODI World Cup history.
But of the 12 previous sides which lifted the trophy, which one was the greatest?
The West Indies in 1975 and '79 did not suffer a loss in the first two World Cups, Sri Lanka did likewise in their unexpected '96 success while the Australian juggernaut of 2003 and '07 swept all before them. 
If you put the 12 champion line-ups as they were when they conquered the world into a head-to-head tournament, who would be the last team standing?
World Cup honour role 
1975 West Indies
1979 West Indies 
1983 India
1987 Australia
1992 Pakistan
1996 Sri Lanka 
1999 Australia
2003 Australia
2007 Australia
2011 India 
2015 Australia
2019 England 
All these teams were fantastic in their own right so to work out which one is the greatest, for the sake of this exercise, each side was weighed up in terms of all-time greats, how much they dominated and the legacy they left. 
The first teams cut 
The original World Cup champions led by Clive Lloyd laid the foundation for the West Indies' two decades of dominance on the international cricket stage. 
But when compared with the Windies of four years later, the '79 side was far stronger, particularly with Michael Holding and Joel Garner added to the bowling attack so the 1975 side is out of the running. 
The 1983 Indians were pioneers in establishing India as a cricketing superpower but when you analyse their winning XI, there are a few players who had modest international careers. 
Sri Lanka's 1996 history makers also blazed a trail for their nation with players such as Aravinda de Silva and Arjuna Ranatunga bridging the gap from their early stars and their second generation led by Muttiah Muralidaran, Chaminda Vaas and Sanath Jayasuriya. 
But they also had a few players who were good not great, especially when compared against some of these other star-studded World Cup-winning outfits. 
Australia have five horses in this race and while they all contained legends of the game, Allan Border's 1987 side and the Michael Clarke-led side which triumphed in 2015 could not hold a candle to the three sides which collected all the silverware from 1999-2007. 
England's 2019 team also doesn't make it into the top half of World Cup champions due to the fact that most of their players are very good but when it comes to all-time great status in ODI cricket, would you say any of these players fall into that category?
And of course they get docked a few demerit points for not scoring more than their opponents in the final but squeaking by New Zealand due to a bizarre boundary count back after the Super Over stalemate. 
1975 Windies'79 Windies'83 India'87 Australia'92 Pakistan'96 Sri Lanka Roy FredericksDesmond Haynes Sunil GavaskarDavid BoonAamer SohailSanath JayasuriyaGordon GreenidgeGordon GreenidgeKris SrikkanthGeoff MarshRamiz RajaRomesh Kaluwitharana (wk)Alvin KallicharranViv RichardsMohinder ArmanathDean JonesImran KhanAsanka GurusinhaRohan KanhaiAlvin KallicharranYashpal SharmaAllan BorderJaved MiandadAravinda de SilvaClive Lloyd (c)Clive Lloyd (c)Sandeep PatelMike VelettaInzamam-ul-haqArjuna RanatungaViv RichardsCollis KingKapil Dev (c)Steve WaughIjaz AhmedHasan TillakaratneKeith BoyceDeryck Murray (wk)Kirti AzadSimon O'DonnellSaleem Malik Roshan Mahanama Bernard Julien Andy RobertsRoger BinnyGreg Dyer (wk)Moin Khan (wk)Kumar DharmasenaDeryck Murray (wk)Joel GarnerMadan LalCraig McDermottWasim AkramChaminda VaasVanburn HolderMichael HoldingSyed Kirmani (wk)Tim MayMushtaq AhmedPramodya WickramasingheAndy RobertsColin CroftBalwinder Sandhu Bruce ReidAqib JavedMuttiah Muralidaran
The Super Six: the '79 Windies, '92 Pakistan, the Aussie golden era and India's 2011 team
Australia's 2007 line-up was unbeaten but they benefited from what was a relatively soft tournament and would struggle to beat their previous two incarnations. 
The 2011 Indians have the two leading ODI centurions of all time in Sachin Tendulkar and Virat Kohli but at opposite ends of their career – one on the way out and the other just starting to become a superstar. That team's batting was sublime but the bowling attack is not in the legendary stratosphere. 
'99 Australia2003 Australia '07 Australia '11 India'15 Australia '19 EnglandMark WaughMatthew HaydenMatthew HaydenVirender SehwagDavid WarnerJason RoyAdam Gilchrist (wk)Adam Gilchrist (wk)Adam Gilchrist (wk)Sachin TendulkarAaron FinchJonny BairstoeRicky PontingRicky Ponting (c)Ricky Ponting (c)Gautum GambhirSteve SmithJoe RootDarren LehmannDamien MartynAndrew SymondsVirat KohliMichael Clarke (c)Eion Morgan (c)Steve Waugh (c)Darren LehmannShane WatsonMS Dhoni (c) (wk)Shane WatsonBen StokesMichael Bevan Michael Bevan Michael ClarkeYuvraj SinghGlenn MaxwellJos Buttler (wk)Tom MoodyAndrew SymondsMike HusseySuresh RainaJames FaulknerChris WoakesPaul ReiffelBrad HoggBrad HoggHarbhajan SinghBrad Haddin (wk)Liam PlunkettShane WarneAndy BichelNathan BrackenZaheer KhanMitchell JohnsonJofra ArcherDamien FlemingBrett LeeShaun TaitMunaf PatelMitchell StarcMark WoodGlenn McGrathGlenn McGrathGlenn McGrathSreesanthJosh HazlewoodAdil Rashid
The Final Four: the '79 Windies, '92 Pakistan, the '99 and 2003 Aussies
If we're talking about a team to win one hypothetical match against these other champion XIs, the 1992 Pakistani side could beat anyone on their day. 
But the eclectic line-up of talented individuals which Imran Khan managed to get firing on all cylinders also had the tendency to put in a collective shocker. 
They had their share of luck to even make the '92 semis Down Under before storming past New Zealand and England to glory. 
The 1979 Windies side contains their two greatest skippers in Clive Lloyd and Viv Richards, the finest ODI batter of his generation, and world-class openers in the iconic duo of Gordon Greenidge and Desmond Haynes. 
Add in a four-man pace battery of Garner, Holding, Andy Roberts and Colin Croft and this team was ahead of its time. 
But as much as they obliterated the opposition of their era, they are probably just a touch behind the Australian sides of 1999-2003 who kicked off their threepeat of World Cup trophies. 
The final showdown: Waugh's comeback kings vs Ponting's machine
Australia vs Australia, four years apart – who'd win? 
Five players backed up from partying at Lord's in 1999 to be part of the final celebrations in Johannesburg four years later. 
The case for the 2003 side is Ricky Ponting, Glenn McGrath and Adam Gilchrist are four years older and more so in their prime. 
They didn't lose a game and had to overcome plenty of drama before the tournament started with Shane Warne suspended for using a banned diuretic, which he claimed was for weight loss but drug testers suspected was part of a rapid recovery from shoulder surgery. 
Andrew Symonds came of age, Ponting blazed one of the best centuries in history in the final against India and the bowling attack had class, variety and potency in spades. 
But although they started their march to victory slowly and should have been eliminated if not for Lance Klusener and Allan Donald's panicked semi-final single, the Australian 1999 team is the G.O.A.T when it comes to World Cup champion sides. 
Waugh was indomitable as the team's leader, Warne and McGrath had an aura which spooked opposing batters and the team had no weak links. 
The back-up bowlers in Paul Reiffel, Damien Fleming and Tom Moody thrived in English conditions while Mark Waugh, Ponting, Gilchrist and Michael Bevan are among the best in their roles that Australia has produced in the ODI format. 
Australia had better tournaments as far as win-loss records but if our AI overlords ever figure out how to stage a tournament between all the World Cup champions, it's hard to see the side with two Waughs, Ponting, Gilchrist, McGrath, Bevan and Warne finishing anywhere but on top.