'That's the pinnacle': Cummins' finest moment as captain with bold tactical gambles dismantling Indian juggernaut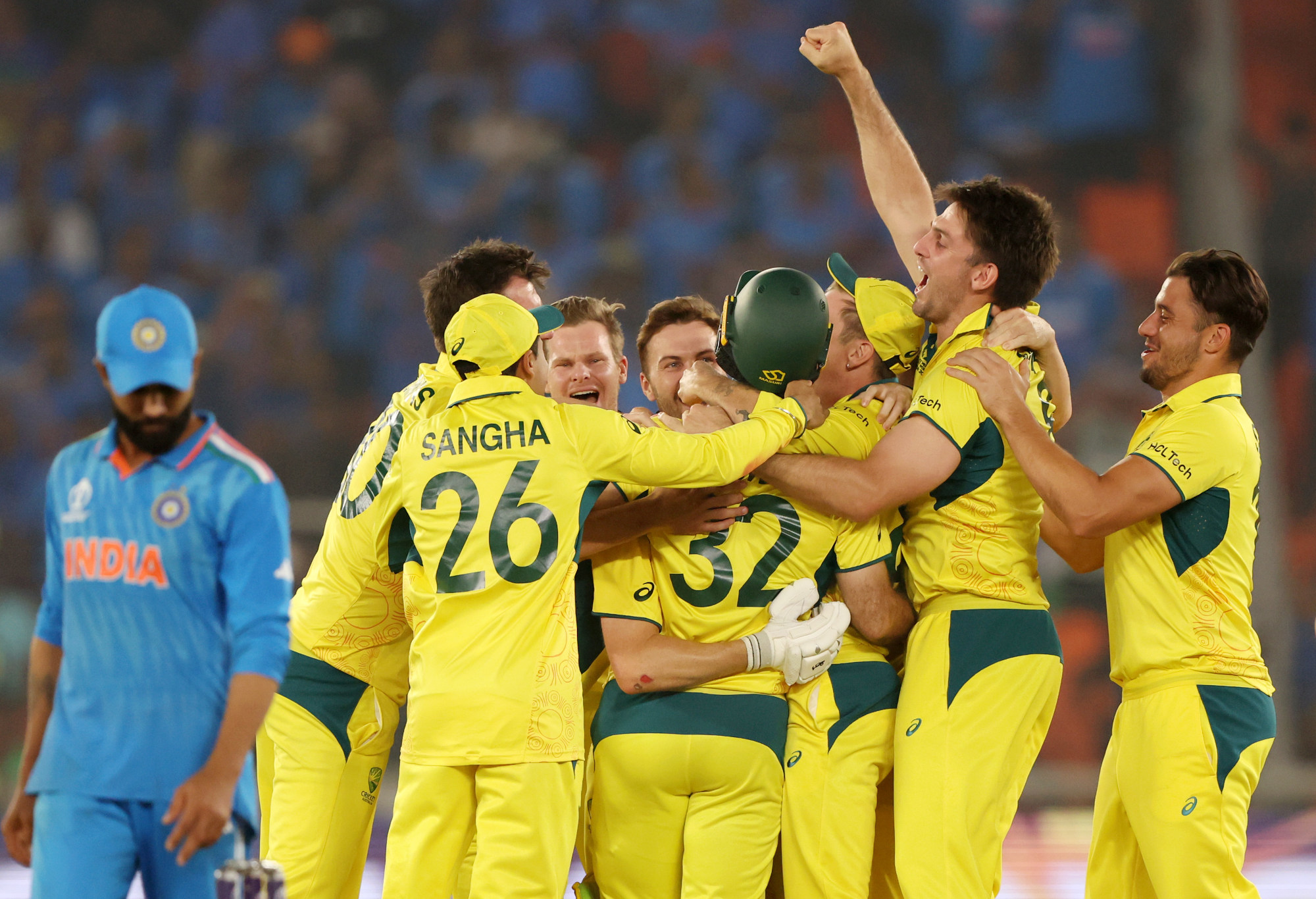 A captain's impact on a cricket side can vary between monumental and incremental. 
In the World Cup final each skipper's performance had a major impact on their team's fortunes. 
And while Rohit Sharma threw his wicket away to forfeit his team's early advantage, the final in Ahmedabad was the day Cummins' captaincy came of age. 
Australia's skipper outplayed and outstrategised his rival, starting with the surprising decision to bowl first after winning the toss. 
Sharma got his team off to a flyer in the opening power play, repeatedly flaying the normally miserly Josh Hazlewood to the boundary to race to 47 off just 30 deliveries. 
But with his team well on top at 1-76 in the 10th over after he had bashed Glenn Maxwell for a four and a six, he tried to send him for another maximum but succeeded only in skying a catch to a diving Travis Head. 
Sharma had assumed something of a pinch hitter role in this tournament, smacking new-ball bowlers around in brief cameos which has allowed Virat Kohli the luxury of time to build his innings. 
It's been a successful formula against lesser opponents in lead-up games but in a final, a captain's knock was needed. Sharma had put his team well ahead in a short space of time but he brought his good work undone with a rash shot of aggression when consolidation should have been front of mind. 
Cummins then stepped up to dismiss the dangerous Shreyas Iyer for four and all of a sudden India were simultaneously sizzling at eight an over but fizzling with three wickets down. 
And after a steadying partnership of 68 in the middle stages it was Cummins again leading from the front by employing a short-ball scheme to unsettle Virat Kohli enough that the King chopped the ball onto his castle. 
While he's often criticised for being too tactically taciturn in the field, Cummins was trying all sorts of strategies to break through on a benign batting-friendly surface. 
At one stage he cycled through nine bowling changes in a 10-over stretch. 
It can be a risky move, especially when the likes of Head and Mitchell Marsh have bowled sparingly in this World Cup and it can be hard for part-timers especially to maintain rhythm and accuracy in one or two-over bursts. 
But they churned through their mini spells with little damage to the scoreboard to keep the brakes on India as the hosts went an hour in the middle stages without finding the boundary. 
What loomed as a projected 350-plus total quickly scaled back to a 250 target before India were bowled out 10 runs shy. 
Cummins kept cool as India's lower order succumbed to Mitchell Starc's reverse swing and Hazlewood's revenge spell to tidy up his figures. 
The plans worked with Suryakumar Yadav given no pace to work with even when facing the quicks and he fell to a slower ball to extinguish India's last batting hope. 
Cummins then had the joy of not even having to pad up as Head combined with Marnus Labuschagne combined to blast Australia to a famous sixth World Cup final win and their most improbable since Allan Border's team triumphed in India 36 years ago. 
"That's huge, I think that's the pinnacle of international cricket, winning a one-day World Cup," Cummins reflected in the post-match media conference. 
"Especially over here in India, in front of a crowd like this. It's been a big year for everyone, but our cricket team has been here in India, Ashes, World Test Championship and to top it off with this is just huge and these are the moments that you'll remember for the rest of your life."
There was plenty of talk pre-game about India potentially interfering with the pitch preparation to suit their team and in explaining his decision to bowl first, Cummins went with his gut instincts.
"The pitch played pretty well actually, it was quite slow and basically no bounce, but I don't think the bounce was anything different to anywhere else in the tournament," he said.
"It probably didn't spin as much as I thought it would. Yesterday it looked really dry, but it was quite firm today.
"And then the toss, we were kind of umming and ahhing right up until the toss really – but I thought you know half a chance of the wicket getting better tonight and you know in a World Cup game you can make a mistake bowling and it doesn't really matter too much, but if you make a mistake batting and you're under pressure it can be fatal so I just felt like it was the right time to go out and have a bowl."
Next Sunday marks two years since Cummins was installed as Test skipper on the eve of a home Ashes series when Tim Paine resigned abruptly. 
He's been learning on the job and has made a few mistakes along the way. 
Even though his tactics have been questionable at times, his leadership has been strong and there's no doubt he has the unwavering support of the Test and ODI players. 
Whether he continues as ODI skipper now that he's become the fifth Australian men's captain to lift a World Cup trophy is now solely up to him. 
He's going to have to scale back his commitments as a three-format, dual skipper fast bowler but there's no rush now on his 50-over future. 
The next major assignment is the T20 World Cup next June in the Caribbean and US. 
Marsh or Head will likely lead that team for Australia's shot at history in becoming the first team to hold the trophies for all three formats simultaneously. 
After a year in which he has lifted the World Test Championship trophy, the Ashes urn via a tough retention on enemy turf and an ODI World Cup, Cummins has earned the right to have a relatively light 2024. 
Some of his agenda-driven critics will never concede Cummins is an elite captain but they can't claim he hasn't been a success. 
Loading…