How to play better golf without ever taking a lesson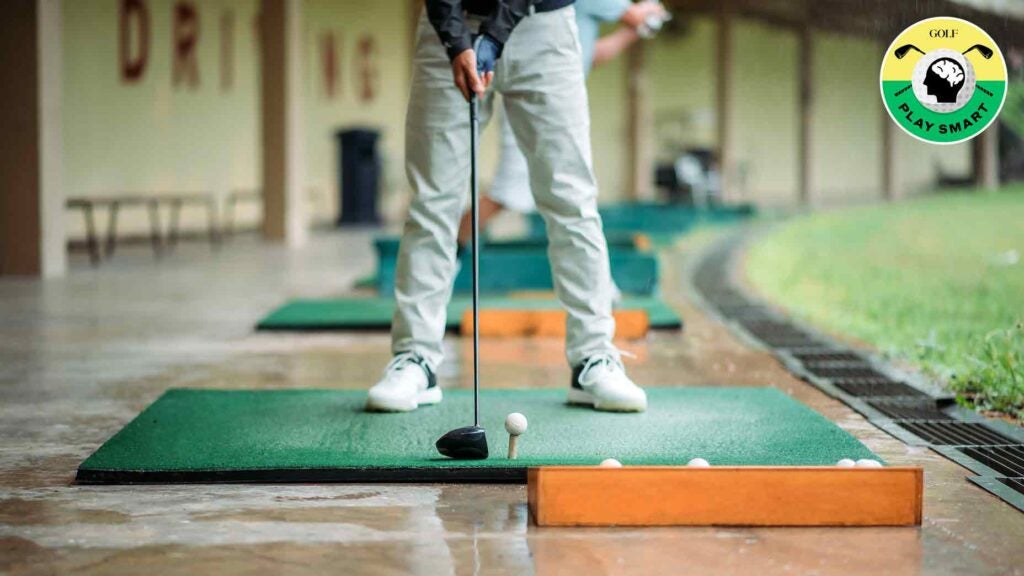 Welcome to Play Smart, a regular GOLF.com game-improvement column that will help you play smarter, better golf.
I've been fortunate enough to work with a couple dozen Tour players over the years and one of the biggest differences I notice between them and amateur golfers is how they practice.
When I watch amateurs, they're almost always working on some technical element of their golf swing. When I watch how pros practice, they have a much higher level of external focus and are typically much more goal-oriented in their practice routines.
Now, I'm not saying that technique isn't important. But I am saying that practicing smarter will help lower your handicap faster, giving you the golf improvement that you're hoping for.
While taking golf lessons is certainly helpful, not every player can match that level of commitment to the game. Some may just want to do things on their own without high-level coaching, and others may not want to spend a lot of money on a hobby they're still trying to figure out.
So regardless of your handicap, dedication to the game of golf or overall skill level, here are three drills that can help every player improve right now without taking a lesson.
How to improve at golf without taking lessons
Follow these simple steps and you'll start to see major golf improvement — no matter where you currently are as a player.
1. Full swing practice
Practice curving the ball towards your target. Most amateurs focus on starting it at their target, then watch the ball curve away from where they want the ball to land. By starting to play for a slice or a hook, you'll set yourself up for better results.
Next, work on "gamifying" your practice. Give yourself one point for starting the shot on the correct side of the target line, one point for curving it the correct way, and one point if it doesn't cross the target line.
After 10 shots, how many points can you total?
2. Wedge work practice
Spend 10 minutes each day doing wedge ladders, where you work on carrying your wedges 35, 40, 45, 50, 55, 60, 65, 70, and 75 yards. Climb up and down the ladder at least once a day.
It's important to randomize your wedges and use as many as possible, helping to create a variety of trajectories for each loft and distance. This will give you practice at full swing, three-quarter swing, and half-swing shots — which you'll often come across on the course during a round.
3. Putting practice
Improve your putting speed control on the greens by never hitting the same putt twice in a row. This means varying your practice putts from 10-40 feet, as well as hitting shots both uphill and downhill.
A good drill to challenge yourself is to pick a spot on the green from varying distances, and try to get 10 putts in a row within two feet of that target. If you leave one outside of that two-foot zone, start over from the beginning.
All of our market picks are independently selected and curated by the editorial team.
If you buy a linked product,
GOLF.COM may earn a fee. Pricing may vary.
PRGR Portable Launch Monitor (HS130A)
$229.99
Easy, Accurate, and Affordable. With unrivaled accuracy and simple, easy to use functionality, the PRGR is simply the best consumer launch monitor on the market.
The PRGR measures Club Speed, Ball Speed, Smash Factor, Carry Distance, and Total Distance when hitting a golf ball. It will also measure Club Speed when you are not hitting a ball. This makes this device the perfect source of feedback during your speed training sessions and a great resource for tracking your actual speed and distance gains when hitting golf balls.
BUNDLE + SAVE!
$50 OFF TRAINING SET + PRGR