Partey Out for Six Weeks and Pepe's Besiktas Medical?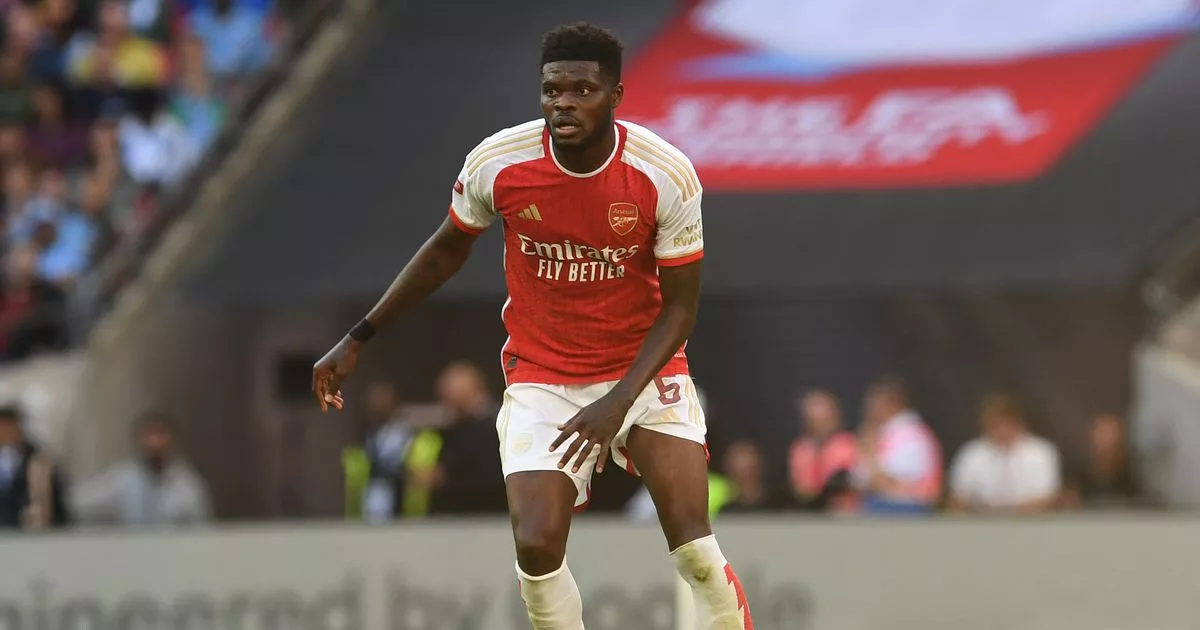 Following the pulsating victory over Manchester United, Arsenal will hopeful that their players in good form will be returning back from international football unscathed, especially with the latest injury suffered by one of the treatment table regulars, Thomas Partey.
Partey's Arsenal career has been riddled with a litany of injuries, which actually made the club sign a short term replacement in Jorginho, but the club had set their sights on Declan Rice for quite some time and were very elated to get the deal over the line after some intense negotiations with West Ham. With the club doing well to sign Rice early, the British record transfer fee holder blended in with the squad ahead of the new campaign and has expectedly become a mainstay in the starting XI, playing all the games before getting his first Arsenal goal in the best possible game ever.
Having a player like Rice has bridged the Partey gap, thereby cushioning its effect, because the Ghanaian lynchpin remains a very vital cog in the Arsenal midfield engine. Arteta's remarks on Partey in the post-Manchester United press conference didn't brim with any form of confidence,
"I don't know [how bad it is]. Unfortunately he got an injury in training and it doesn't look good, we need some more tests, we believe he's going to be out for weeks. We think it's a groin but can be something in between."
The Evening Standard has reported that Partey could be out for as long as six weeks, which is a massive blow to Arsenal. With Mohamed Elneny still rehabilitating from his knee injury and Albert Sambi Lokonga loaned out to Luton Town, Arteta can only count on Jorginho to serve as a backup to Rice in the duration of Partey's enforced absence. 
This injury for Partey will see him miss the following matches – Four Premier League games (Everton, Spurs, Bournemouth and Manchester City), two Champions League games (PSV Eindhoven and Lens) and a Carabao Cup match with Brentford. He might even miss the Premier League game against Chelsea before the next international break. 
This is quite a while to be without Partey, but the team has the right levels of depth to manage in his absence. His layoff will make Rice absolutely important for us, so we can only hope our record signing stays fit.
Elsewhere, there is a bit of confusion around the future of our second most expensive signing, Nicolas Pepe. 
He had an underwhelming loan spell with OGC Nice, scoring eight goals in 28 appearances but towards the tail end of the campaign, he lost his place in the team and suffered a nasty injury that closed the curtains on his season. In his absence, Arsenal gave his jersey number to Leandro Trossard, probably with the mindset that he was not returning, but since Pepe came back to the club, he has been no where to be seen, not even in the good ol' training pictures.
Clearly he has seen his future out of Arsenal, and Edu Gaspar is more than willing to part ways with him, but with a year left on his contract, Arsenal were unable to get him out of the exit door before the transfer window closed. While the window was still open, Pepe was linked with a move to Besiktas, but the proposed move broke down following disagreements over wages and the contract length. He was also open to a move to the much-sought after Saudi Pro League, but the oil-rich clubs didn't make any concrete moves for his services. 
According to L'Equipe, it was reported that Pepe was set to have his medicals in Paris ahead of a move to Besiktas. Unlike the Premier League, the Turkish SuperLig's transfer window closes on September 15th, so the move for Pepe was very possible. However, it would mean that the club had made an official bid to Arsenal for his services, or Arsenal had taken the Aubameyang / Mustafi / Kolasinac / Papastatopoulos / Willian route to terminate his contract, allowing him to leave on a free transfer.
However, Sport Witness has reported that Besiktas has denied conducting any medicals for Pepe which has brought the whole situation into bedlam. There is no legit news from Pepe's camp on the matter, as it will be expected that his agent is on the streets, trying to cook up a move for his client before all transfer windows finally close. 
Either ways, it's quite a shame to see how far Pepe's stock has fallen, and it will be very unlikely to see him play for Arsenal before he leaves. He doesn't even have a jersey number on the official website. That speaks in volumes.