As the 2023-24 season tips off, how do the Aussies in the NBA stack up?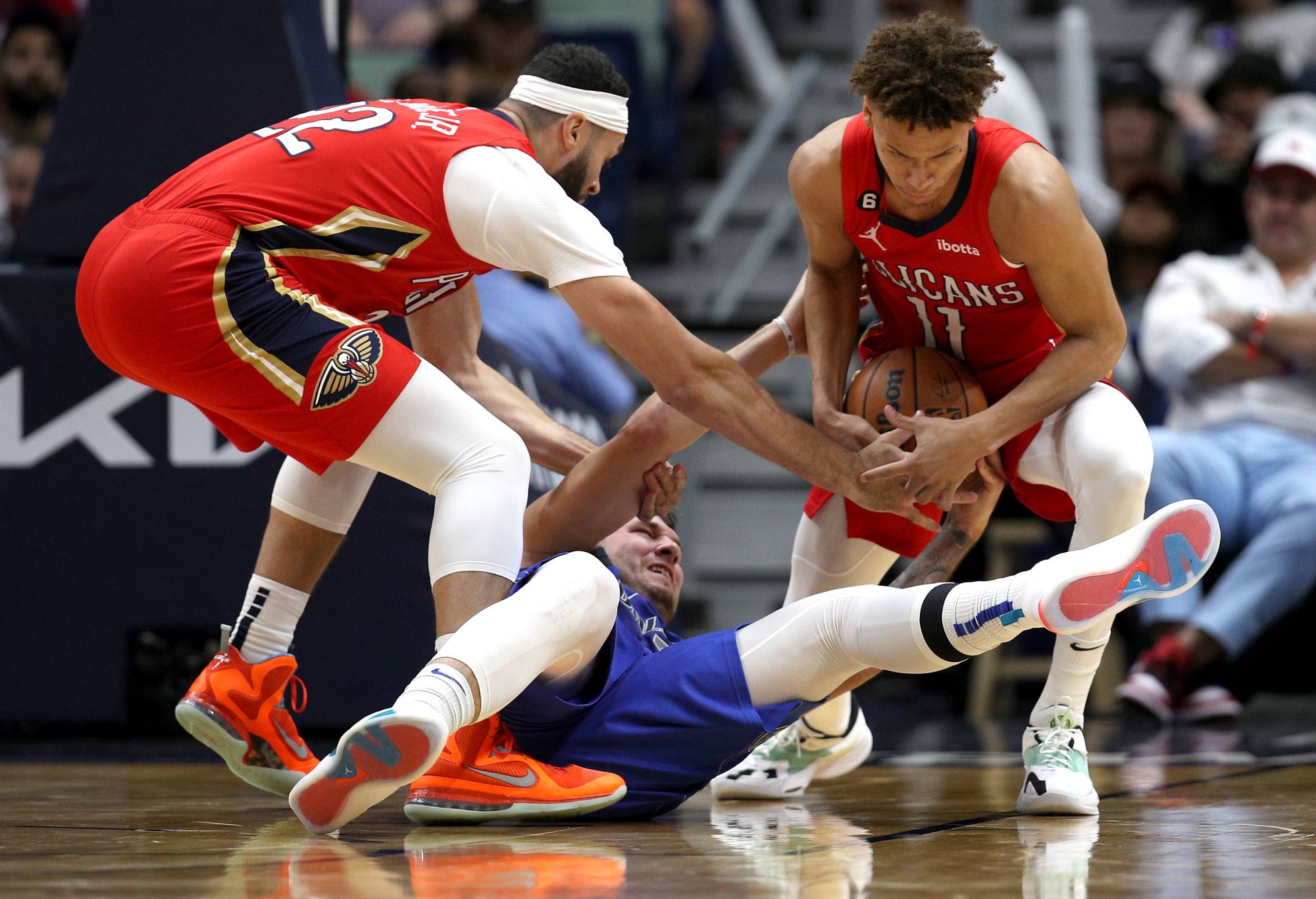 The 2023-24 NBA season is underway, with numerous Australian players suiting up. From young up-and-coming players to experienced veterans, each player will go into the season with varying roles and expectations. Let's take a look at the pick of the bunch.
Dyson Daniels (G/F, New Orleans Pelicans)
The 2022 number eight draft pick will be looking to cement his spot as a valuable member of the New Orleans rotation. An injury-depleted Pelicans allowed Daniels to showcase his impactful defensive ability in his rookie season – his mix of size and instincts could see him become one of the best wing defenders in the NBA.
The need for improvement lies primarily in his offence. Daniels displayed himself as a good decision-maker with his passing and cutting. However, Daniels's scoring was lacking, scoring just 3.8 points per game in 17.7 minutes. The most notable area for improvement is his 3-pt shooting, with Daniels hitting just 31.4% from long range last season.
With Trey Murphy III expected to be out for the start of the season, Daniels' size, rebounding and positional versatility should grant him playing time to start the season. One thing to note is that Zion Williamson assisted the most on Daniels's field goal makes despite playing less than half the season. If Daniels can continue to be an off-ball threat to Williamson's playmaking, it should help progress his game and confidence.
Dante Exum (G, Dallas Mavericks)
After two successful seasons playing in Europe, Exum returns to the NBA in career-best from. Exum struggled with injuries and consistency in his first NBA stint, yet returns with a more well-rounded game, having taken strides on the offensive end in Europe. Most notably, Exum shot 41.9% from 3-pt range in two seasons in Europe, much improved from the 30.5% he previously shot in the NBA.
Behind Luka Doncic and Kyrie Irving, the Mavericks have question marks concerning their playmaking. Jaden Hardy and Seth Curry provide valuable shot-making but Exum's ability to score, pass and defend mean he could be the answer as the back-up point guard. Exum's performance for Australia in the FIBA World Cup, along with his impressive preseason, hints that Exum should get opportunities early in the season. Helping Exum's case is his versatility and the ability to play on the wing, an area of concern for the Mavs as they enter the season.
If the improved shooting can translate in his NBA return, Exum is likely play a significant role this season. While a lofty expectation, Exum could carve out a role as one of the best sixth men in the league this season.
Josh Giddey (G, Oklahoma City Thunder)
In just two NBA seasons, Giddey has proven himself as one of the league's best passers. Still just 21 years old, Giddey is a key cog amongst the Thunder's impressive young core. While Shai Gilgeous-Alexander's jump into an all-NBA calibre player was the key reason for Oklahoma exceeding expectations last season, Giddey's scoring and efficiency improvements was a contributing factor in their rise.
As is the trend for many of Australia's up-and-coming guards, 3-point shooting looms as an ongoing area of improvement for Giddey. Giddey's improvement from 26.3% in his rookie season to 32.5% last season hints that he may continue to make shooting progression. The development of a post game looks a likely step in helping Giddey advance his game, particularly as his size can create mismatches while also opening up team opportunities with his passing.
At a team level, Giddey's role as a facilitator will be instrumental in setting up easy looks for the offence. If Giddey continues to take strides in all areas of his game while contributing to the Thunder's improvement, he could loom as a surprise all-star.
Josh Green (G, Dallas Mavericks)
After a challenging first couple of seasons in Dallas, Green's impressive 2022-23 season has elevated him to a high-end role player, earning him a contract extension (3 years/$41 million). The departure of wing veterans Dorian Finney-Smith and Reggie Bullock means Green's two-way play will be integral to the Mavs 2023-24 season.
Green's 3-point ability (40.2% last season), transition play and defence saw him emerge as one of the few bright spots in the Mavs disappointing 2022-23 season. His ability to play within himself next to superstar Luka Doncic bodes well for his role in the upcoming season.
With the Mavericks without a clear third-best player behind Irving and Doncic, Green has an opportunity to make another leap. Further progression of his dribble-penetration and passing game while continuing to be a willing a shooter could grow Green's role. Given the Maverick's scarcity in experienced wing players, Green should get the playing time to keep building his game.
Joe Ingles (G/F, Orlando Magic)
Entering his tenth season in the NBA, Ingles will provide a veteran presence on a young and promising Orlando Magic team. Coming back from an ACL tear last season, Ingles demonstrated he was still an elite shooter and pick and roll operator within the NBA.
Despite the valuable experience Ingles brings, a rotation spot with the Magic is not guaranteed. Ingles's offensive game certainly fills a number of their key needs, particularly 3-point shooting. In saying that, Ingles will have to hold up on the defensive end, something he'll hoping to display as he looks to stay in the NBA.
Depending on the progression of this Magic team, Ingles' experience could prove helpful if they make the playoffs. Otherwise, you could expect him to be a trade target of a contending team as as the season progresses.
Jock Landale (C, Houston Rockets)
After proving himself as a competent NBA back-up center these previous two seasons, Landale signed a 4-year, $32 million contract with the Houston Rockets. Having consistently earned his minutes, Landale should get ample playing time as the Rockets back-up centre behind Alperen Sengun.
Landale has translated his work ethic, competent finishing, and strong rebounding into the NBA, which culminated in valuable minutes for the Phoenix Suns in last year's playoffs. Considering Sengun's weaknesses in the areas, Landale's 3-point shooting and defence is where he can maximise his role this season. Despite shooting 39% from three in his solitary season in the NBL, Landale has shot just 29% in his two NBA seasons. If Landale can shoot in the mid-30's while holding up defensively, it opens up greater versatility for the Rockets.
As the Rockets hope to take significant strides this season, Landale has the opportunity to become one of the best back-up centres in the league and also start if need be.
Patty Mills (G, Atlanta Hawks)
The 35-year-old Mills will provide a much-needed locker room presence for an Atlanta Hawks team that has underperformed the last two seasons. Mills's 3-point shooting should suit the offensively minded Quin Snyder coached team.
Despite Mills' fit with the team, the Hawks guard depth means he may be limited in his playing opportunities. Trae Young, Dejounte Murray and Bogdan Bogdanovic are sure to fill the majority of guard minutes. Mills will likely serve more as injury cover, and as someone who can provide spot minutes for the team. Hopefully Patty can make the most of his opportunities and demonstrate how his shooting can contribute to wins for the Hawks.
Duop Reath (C, Portland Trail Blazers, two-way contract)
The progression of Duop Reath has been one of the more understated stories in Australian basketball over the last few years. Reath has continued to round out his game, most notably his 3-point shooting. Reath's impressive form in the 2023 NBA Summer League and the FIBA World Cup helped earn him a contract with the Portland Trail Blazers.
Despite showing promise in the preseason, Reath was waived by the Blazers before being signed to a two-way contract, the late additions of Deandre Ayton and Robert Williams via trades likely costing Reath his full contract.
Although his NBA opportunities may be limited, Reath can showcase his NBA capability in the G-League. With the lack of shooting versatility among Blazer centres, Reath may be given opportunities, particularly with the injury history of Williams. Considering third-string centre Moses Brown's struggles to maintain a consistent roster spot in recent years, impressive G-League form while maximising his NBA playing time may see Reath elevated to the main roster as the season progresses.
Ben Simmons (G/F, Brooklyn Nets)
Arguably Australia's greatest basketball product, Simmons enters the season with less expectation and pressure than ever before with the youthful Brooklyn Nets. Despite overcoming his mental health struggles and back surgery last season, Simmons's 2022-23 form was nowhere near his 2019-20 All-NBA form. Simmons's athleticism was not what it had been and his hesitancy to drive and score saw him score just 6.9 points per game.
However, the NBA preseason has shown Simmons looking the best he has since prior to his 2021 playoff struggles. Along with his overall athleticism looking improved from last season, his dynamic transition play, elite passing, opportunistic defence, as well as a greater willingness to drive bodes well for a revamped season.
The Nets preseason has alluded to Simmons also returning to the starting point guard position, providing Simmons opportunity to play to his facilitating strengths.
The 2023-24 NBA season appears to be a potential rejuvenation season for Simmons. The season may answer whether Simmons can return to an all-star calibre player or whether he continues his career as a high-end role player. His degree of success this season and going forward may largely be a result of his ability to overcome the mental roadblocks which have increasingly limited him in his career.
Matisse Thybulle (G, Portland Trail Blazers)
Having started his career with the Philadelphia 76ers, Thybulle can continue his fresh start with the Trail Blazers this 2023-24 season. Thybulle has already demonstrate the impact he can bring on the defensive side of the game, but will be looking to his improve offensively.
While his lack of offense previously limited his playing opportunities with the 76ers, a Blazers team lacking expectations, as well as plus-defenders, means Thybulle is likely to get sufficient playing time. The key area for Thybulle to develop is his 3-point shooting. Although his NBA 33.4% 3-pt percentage isn't woeful, his limited shooting attempts and lack of attention from defenders mean he is not seen as an offensive threat. If Thybulle can become a 35+ % 3-pt shooter, he can become a vital player on the rebuilding Blazers.
Honourable mentions
Xavier Cooks
The athletic forward was rewarded for his strong NBL play by earning a contract with the Washington Wizards at the backend of the 2022-23 season. Despite signing a four-year contract, Cooks was waived as the Wizards finalised the roster for the season. With his game suited to being a small-ball centre at the NBA level, his lack of size at this position, combined with this lack of shooting were likely factors in Cooks not making the final roster. While Cooks may be given a chance with another team, his limitations may be a barrier to earning genuine NBA playing time in the future.
Jack White
White was impressive in his two-way contract with the Denver Nuggets in the 2022-23 season, earning him a contract with the Oklahoma City Thunder. With the Thunder needing to make numerous cuts prior to the season start, White was cut from the final roster. White's ability to rebound, defend and shoot as a 6'7" wing means he is well suited to the NBA game. While not guaranteed, it would not be surprising to see White end up playing some form of NBA minutes some time this season.