Legacy vs ego: The Springboks are playing for South Africa, the All Blacks are playing for themselves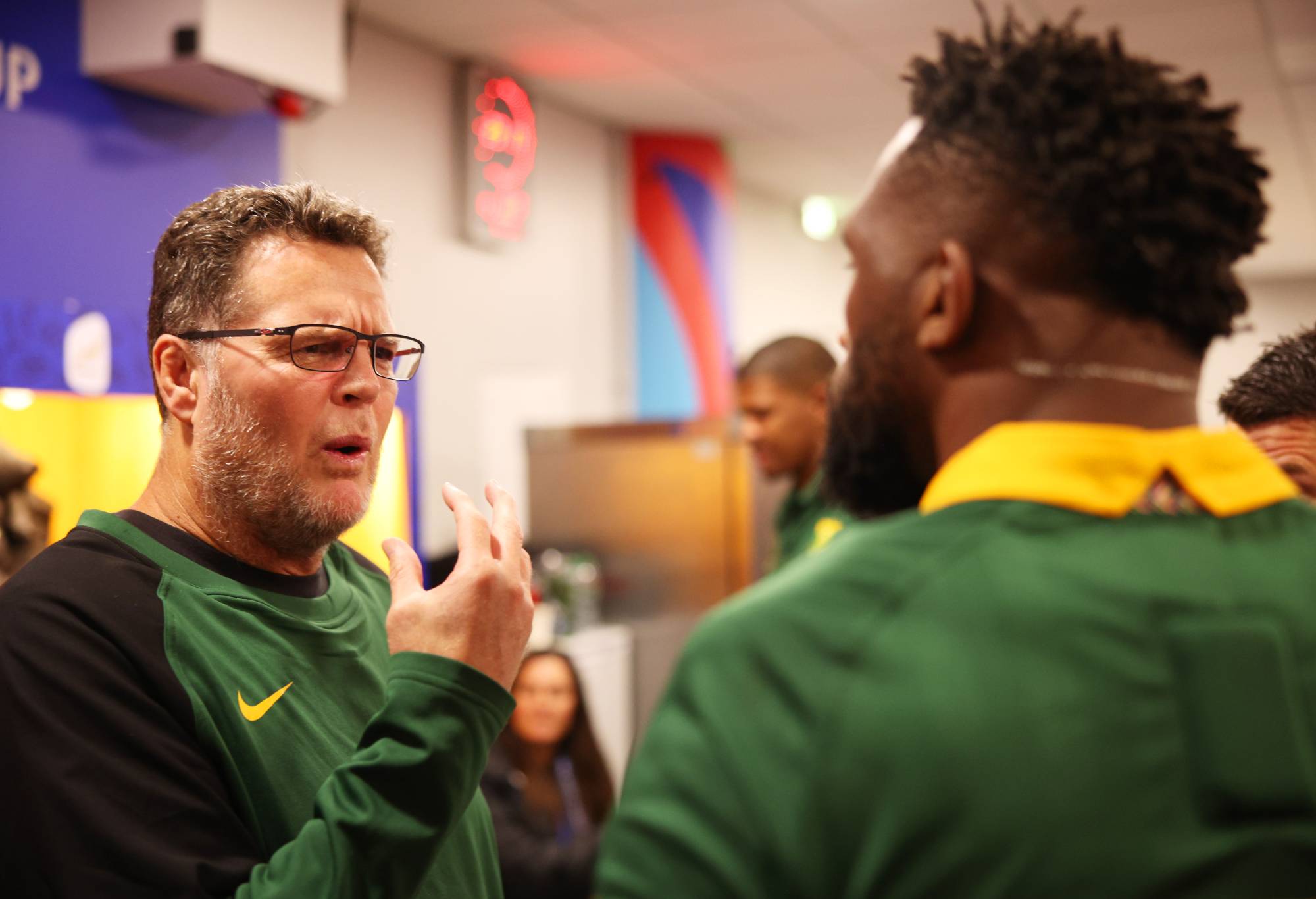 Four years ago, Rassie Erasmus delivered one of the great rugby speeches ahead of the 2019 World Cup final.
"You don't have the right today to worry about your mistakes," Erasmus said before the Springboks sealed a stunning 32-12 victory over England to claim their third William Webb Ellis Cup.
"If you worry about your mistakes today, you've got ego problems.
"You are not representing yourself today. You are fighting for the things that happen in South Africa.
"You are tackling for the boy who didn't get the same opportunities that you got eventually."
Four years later and the "ego" Erasmus spoke about is what is driving the standards and expectations around the Springboks' bid to go back-to-back.
"We explain to the whole squad why we are going a certain route. It is not about individual selection," Springboks coach Jacques Nienaber said shortly after announcing two changes to his starting side and five in total, after going in with a forwards-heavy 7-1 bench split.
"It is for South Africa. As selectors we know there will be pressure on us if we don't deliver a result but at the back of our minds we know this selection is for South Africa.
"The players take it like that. It is not about person or ego, not that they have egos, but you can't think of that. You have to think about South Africa and the Springboks."
Seemingly the Springboks are playing for more than themselves. They're playing for their country.
It's a powerful force, one that saw them progress through the knockout stages to reach the final after consecutive one-point victories.
Pressure? The South African laughs at the notion of what pressure is compared to the inequality and challenges the Rainbow Nation continues to experience.
The question is: how can New Zealand's All Blacks withstand and overcome the hitherto unshakable wave of momentum and spirit the Springboks play with under Erasmus in this weekend's World Cup final?
It would seem that, as the Springboks play for their country, the All Blacks are playing for themselves as much as anyone – and the generation of players and leaders that will call time on their international careers at week's end.
The backlash and toxicity that followed their historic home series loss to Ireland was a humbling and public reminder of the expectation of being an All Black.
It's why Saturday's World Cup final is personal for the men wearing black.
All Blacks social media managers were forced to delete a thousand comments an hour following the humbling series loss in Wellington.
The pain of the days and weeks after that dark July, as well as the bumps and bruises along the way, including as recently as August when they suffered their biggest defeat to the Boks to lose the inaugural and prestigious Qatar Cup, still runs deep.
"It was quite special to hear some of the things those certain players said from the heart. You know, you think you know someone but once they open up and really be vulnerable in front of a team, it was quite special to hear," back-rower Dalton Papali'i said this week.
"It was truly something special when you hear those boys open up. You know those leaders have been through a lot in their careers, the highs and the lows, the off-field and on-field stuff, and for them to open up, it sort of makes you feel welcomed and you want to play this game for them. 
"There were a few tears and I think that's awesome to see, players showing vulnerability, just opening up about how much this tour and this sort of game means. 
"There were some (people) saying this is probably one of the most important games of All Blacks history. (The) All Blacks went through a bit of a hard path to get here, media, friends, family even criticising us and all that, and we stuck together. We weren't even said to be in the final and now look at us, we're here.
"Different players take it differently and some of the older players probably were hit a little bit harder and it was good to see just a bit of emotion and the want from them. Seeing that gives all the other players an extra two, three per cent to think 'OK, we are going to the well and we've got to give it our all'."
The All Blacks will experience a changing of the guard next season.
Indeed, the All Blacks' social media channels described the team selection for the World Cup final as the "Last Dance".
2015 World Cup winner Dane Coles will call time on his career, while his tight-five teammates Brodie Retallick and Sam Whitelock, who is bidding to become the first player to win the Webb Ellis Cup for a third time, will head overseas.
Fellow World Cup winners Aaron Smith and Beauden Barrett will also head to Japan.
Coles, who was labelled by Samisoni Taukei'aho as a "Grandad" type figure in the All Blacks, has even been denied the chance of a farewell send-off after missing selection.
"Yeah, tough," said coach Ian Foster of the conversation with the 36-year-old around leaving him out.
"We don't want to talk too much about post-game stuff, but that was a tough one, probably the toughest I have had as a coach. He took it the way I expected him to. He's a champion."
Papali'i said the All Blacks were intent on sending their leaders out on a high.
"There's a few leaders in the team, it's going to be their last game in the jersey, so it's a big game for us and even the other players that are staying, knowing that we want to send those boys out on a high," he said.
"How much they put into the jersey. We are standing on their…what's that quote? It's standing on the shoulders of giants." 
The generational change isn't just occurring on the field but off it, too.
Foster will depart the All Blacks set up after 12 years, the last four as head coach.
It's been far from smooth, having overseen their historic defeats to Argentina as well as the 2-1 series loss to Ireland on home soil.
A famous 35-23 win over the Springboks at Ellis Park saw him save his career, with Scott Robertson being lined up on the side.
But it wasn't enough for New Zealand Rugby to back him before this year's Test season got underway, with Robertson announced as Foster's successor.
"Am I at peace?" Foster repeated a question during his World Cup team announcement when asked about where his mental state was ahead of his last Test in charge of the All Blacks.
"Yeah, I'm reasonably peaceful. I love the word but I'm not sure I'm peaceful right now."
He added: "I've just started to get my back nice and straight from last year and now you're trying to make me hunched over again!
"It's the life of this business, it's a tough game. It's tough when you're trying to get your performance right. It's a tough game when people around you see things differently, but we've learned a lot about ourselves.
"We take massive pride in the jersey and making sure we reach the levels we want to. The rest of that is probably a conversation for another day.
"It hasn't altered our vision of where we want this team to be. I know we've surprised a few people but I don't think we've surprised ourselves."