UK View: 'A bridge too far' – Boycott, former greats tear into 'dysfunctional' Poms with World Cup defence all but dead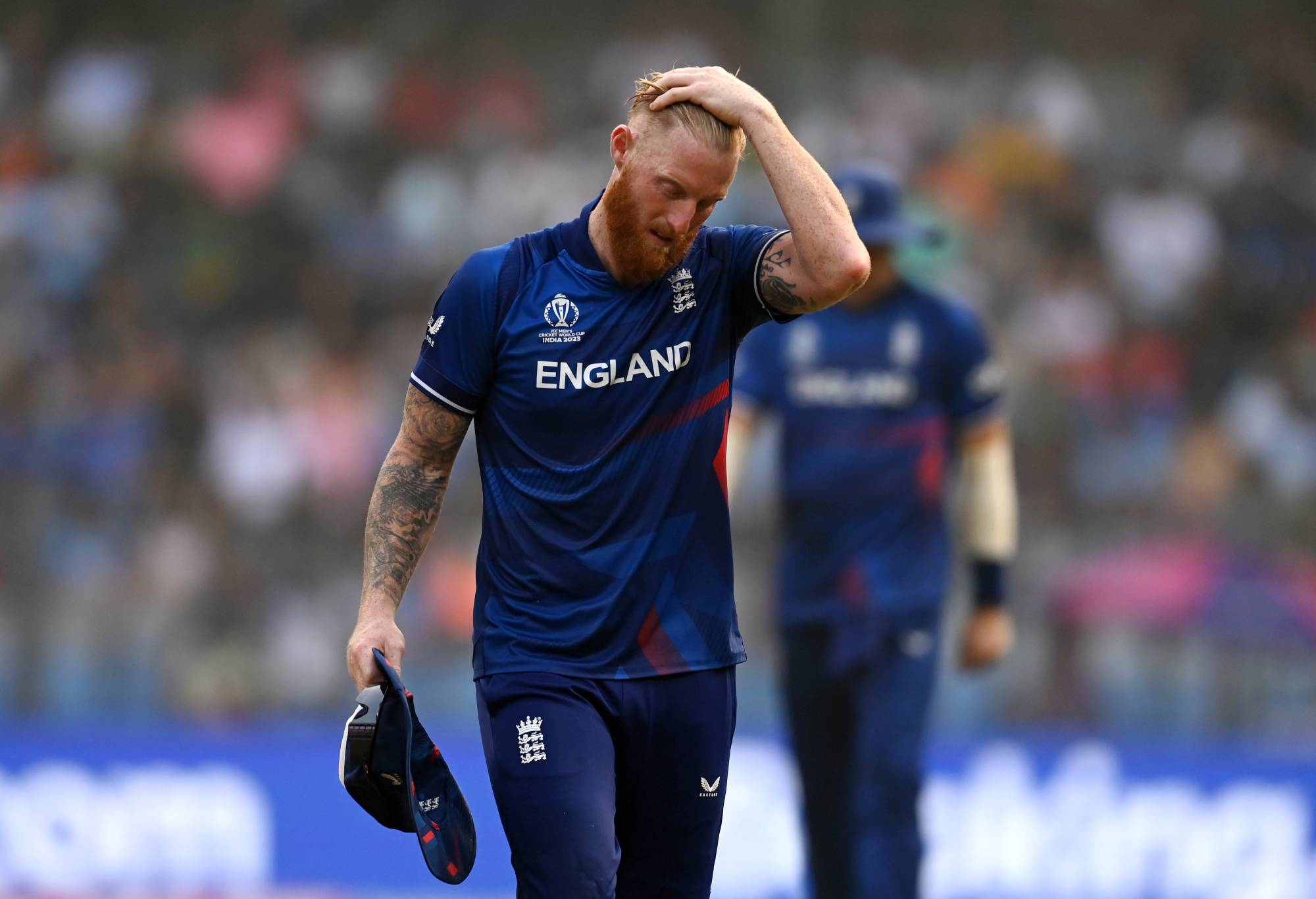 England's hopes of defending their World Cup crown are in tatters – and we're barely halfway through the 2023 tournament.
Second-last of ten on the table after a fourth abject loss in barely three weeks, this time by eight wickets and nearly 25 overs to spare against Sri Lanka having been bowled out for a miserable 156 in Bengaluru, the 2019 champions are now only mathematically a chance of scraping through to the semi-finals.
They need not only to somehow turn their horrendous form around to win all four of their remaining matches, including an upcoming date with table-toppers and tournament favourites India, but also to hope numerous other results, including Australia to lose at least two and probably three of its own four games, to reach the knockout stage.
As expected, the reaction from the UK, and from a swathe of English cricket greats, was scathing.
Leading the charge was the always outspoken Sir Geoff Boycott, who wrote in The Telegraph that the team were paying the price for poor preparation in the lead-up to the World Cup, as well as shoddy team selection extending back to The Ashes earlier this year.
"It is an old saying: "By failing to prepare, you prepare to fail"," Boycott wrote.
"History shows that England rarely bat well in India where the ball spins. Our guys are okay on flat pitches but if it turns they have a problem.
"So the best way to try and overcome that would have been for our squad of players to get to India early and play four or five warm-up matches. What did England do?
Plan only two warm-up games with one getting rained off. Not smart planning… batting and bowling against stiff opponents sharpens your game and puts you on your mettle. Against Sri Lanka, they were once again exposed.
"Too many of our guys just want to play crash, bang wallop all the time irrespective of the type of pitch or opposition. Again not smart."
The brunt of Boycott's criticism of England's team composition was directed at the continued struggles of Jonny Bairstow, who has averaged just 25.2 this tournament, and all-rounder Chris Woakes, whose nightmare campaign continued against Sri Lanka with figures of 0/30 from six overs and a fourth-ball duck.
"Bairstow has struggled since his horrific injury [breaking his leg 12 months ago]," Boycott wrote.
"I have said before I believe Jonny came back too soon and was short of fitness and match practice. In the recent five Ashes Tests his keeping at Lord's was poor with missed chances and he made only three significant batting scores out of nine innings. That shortage of runs has carried over to his patchy one day performances.
"Chris Woakes is an excellent bowler of swing and seam on English type pitches. His record abroad is poor as he does not have the pace or guile for flat batting surfaces. It is not the lad's fault. He was selected but how could people picking the squad go against all the statistics."
However, Boycott isn't blaming captain Jos Buttler for the team's woes, saying the skipper has an impossible job pulling together a 'dysfunctional squad of players' and that not even a 'miracle man' would have much of a prayer of salvaging any pride from the wreckage in India.
"Too many people are criticising the captaincy of Buttler and judging him against the captaincy of Eoin Morgan when England won the World Cup four years ago," he wrote.
"Morgan's England team was a finely tuned machine with everyone knowing their role and most of them at the top of their form… all Morgan had to do was pull the strings of a great unit of cricketers and he did it well, but my Mum could have captained that lot.
"On the other hand Jos has a dysfunctional squad of players. Poorly selected, poorly prepared, not a settled team, many not sure of their roles, patchy form, confidence wobbly and to cap it all England's best two and most influential white-ball players have not been available."
Boycott's voice was added to by former England Test captains Nasser Hussain and Michael Atherton, who have both decried the sudden decline of the team's previously dominant white-ball set-up, having entered the World Cup as reigning ODI and T20I champions.
Hussain said post-match on Sky Sports that "back to back, I've not seen England play as badly as that", adding that the team's issues are less to do with the frequently-criticised The Hundred or a lack of 50-over cricket in the build-up to the tournament as it is the sudden and collective loss of form of the English batting order.
"If you walk in that dressing room now and asked them to put their hand on their heart and say, are you in good nick? I reckon maybe one or two could say that," Hussain said, later doubling down with a scathing editorial in the Daily Mail.
"They have all collapsed as a unit and their form has deserted them. Compare that to South Africa and their batting lineup, everyone's in nick. You look at India and their batting lineup, Rohit [Sharma], KL Rahul, Virat Kohli, Shubman Gill – all in nick.
"Some of those cricketers on that park today would go in your best ever England white ball XI. It's just been a bridge too far for most of them.
"What I don't like is giving players a cop out… when we win the 50-over World Cup and the 20-over World Cup, aren't they great? We're brilliant. And when the wheels come of it's the structure. It's the structure of English cricket, we're a disgrace.
"We play 20-over cricket, we play 100-ball cricket, we don't play enough 50-over cricket – how much 50-over cricket domestically has Virat Kohli played? Or Heinrich Klaasen or anyone out here?
"That's what's made this great side over the last six years, travelling round the world playing T20 franchises. It's such a lame excuse."
Atherton described the England players as looking 'dazed and shell-shocked, unable to comprehend what has befallen them', and wrote in The Times that the Sri Lankan defeat officially represented the 'end of an era' for English white-ball supremacy.
"Each defeat, now four in five matches, has chipped away at the confidence of a group of players at the end of a cycle," Atherton wrote.
"No batsman looks in any kind of form. Every player has been used; some discarded and used again. They lost faith in their all-rounder strategy before the South Africa match, making three changes, and then went back to it here, making three more.
"Players sense uncertainty in decision-making – and there has been a lot of uncertainty.
"It was hard to think that they could put in a worse performance than in Mumbai but they managed it with the bat in Bengaluru."
Speaking after the match, Buttler admitted his team had been 'short of our best by a very long way', saying there is 'no clear answer' as to how to turn their fortunes around.
"It's incredibly tough, an incredibly disappointing tournament. As captain, you feel that a lot," he said.
"We've been short of our best by a very long way. I'm disappointed for myself and the boys that we've not given a good account of ourselves… if there was one golden nugget that we're not doing then we'd pick that up."
Sports opinion delivered daily 
England's tournament may only stay mathematically alive until Sunday evening (AEST), when they face the daunting challenge of tournament hosts India in Lucknow, with defeat certain to end their semi-final chances for good.