'Learned how to fight in dark place': Why the Springboks are the most clutch team we have seen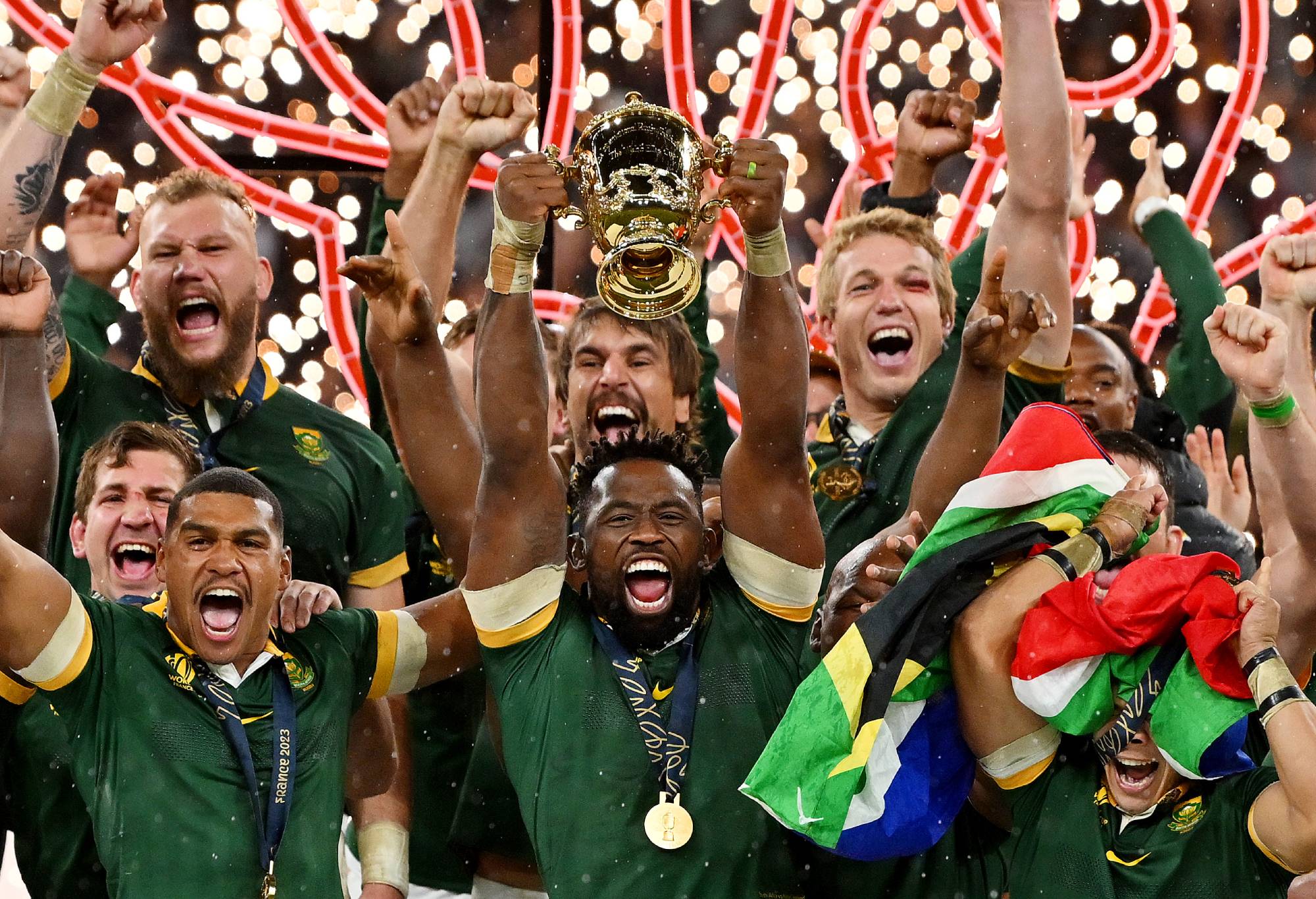 PARIS – Three knockout matches. Three one-point wins. Are the Springboks the most clutch team in rugby history?
"I don't know how they've done it," former Wallaby turned pundit Morgan Turinui said on Stan Sport.
"Quarter-final, could have should have lost, the semi-final could have should have lost, and here they hold on somehow."
Indeed, this is a side that has not just gone back-to-back but done it in the most remarkable circumstances.
Not only have the Springboks become the first nation to claim four Webb Ellis Cups by defeating the All Blacks 12-11, but they are the first side to take on every other nation in the top six of a World Cup and prevail in the end.
While they went down 13-8 to Ireland in an engrossing Pool B encounter in Paris, the Springboks beat Scotland and then knocked over host nation France, England and New Zealand to lift the Webb Ellis Cup for the fourth time.
It wasn't just the fine margins, but the manner of their victories.
The Springboks were blown out of the blocks by Les Bleus in the quarter-final, as the home side came hard and came early.
Eben Etzebeth's decision to race out of the line and get a hand on the ball – legal or not – proved to be the play that not only kept them in the World Cup but put them on the path to greatness. Fine margins.
A probably 14-0 deficit turned into a 7-12 lead.
Cheslin Kolbe's charge-down effort on Thomas Ramos. Fine margins, again.
Then, having fallen behind 15-6 to England, the Springboks, thanks in large part to Handre Pollard, who wasn't even in their World Cup squad at the start of the tournament because of injury, ensured their bomb squad's effort off the bench wasn't wasted.
His clutch penalty from long-range ensured passage into the World Cup final.
Pollard, who scored 22 points in the 2019 World Cup final, followed it by scoring all 12 points at the Stade de France to sink the All Blacks.
How did they win?
According to their inspirational captain Siya Kolisi, who surely rates as one of the game's great captains, their extraordinary wins were down to the inspiration they drew from the struggles in South Africa.
"We had to [find a way]," Kolisi said. "We lost our hooker in the early part of the game and we had to adjust to that. They put a lot of pressure on our lineouts but somehow we found a way.
"People who are not from South Africa don't understand what it means for our country. It is not just about the game. Our country goes through such a lot. We are just grateful that we can be here. I want to tell the people of South Africa 'thank you so much'. This team just shows what you can do. As soon as we work together, all is possible, no matter in what sphere – in the field, in offices, it shows what we can do. I am grateful for this team, I am so proud of it."
All Blacks coach Ian Foster said it was clear the Springboks not only knew how they wanted to play, but could draw on past experiences to help them prevail.
"They just know their game. They are strong. Experienced. Clearly they have learned how to fight in dark place. You can't argue with the three tight wins in this tournament," he said.
"They've got the ability to play the game at their pace." 
Springboks head coach Jacques Nienaber said they didn't have to look far for motivitation.
"Coach Rassie [Erasmius] said great things are never achieved in ideal conditions, and this wasn't ideal conditions for us as a group. Playing the home team in their home country was one of the hardest things to do and obviously when we played the last game against England, which was tight, we had to fight and today as well, no different. 
"The motivation was everything from home and our families. The coaches created an environment for us where we can be with our families no matter where we are, it feels like we are home. There are 15-20 kids running round the hotel. It's one of the greatest things they could have done for us.
"People also from South Africa, some of our friends, they've used their savings to come and watch us. 
"For me not to give my 100 per cent on the field would be cheating all those people and that's what the coaches always remind us of. The motivations for us, we don't have to look far."