'My heart breaks for him': Boks coach's message to Ian Foster is pure class as he bows out an unlucky loser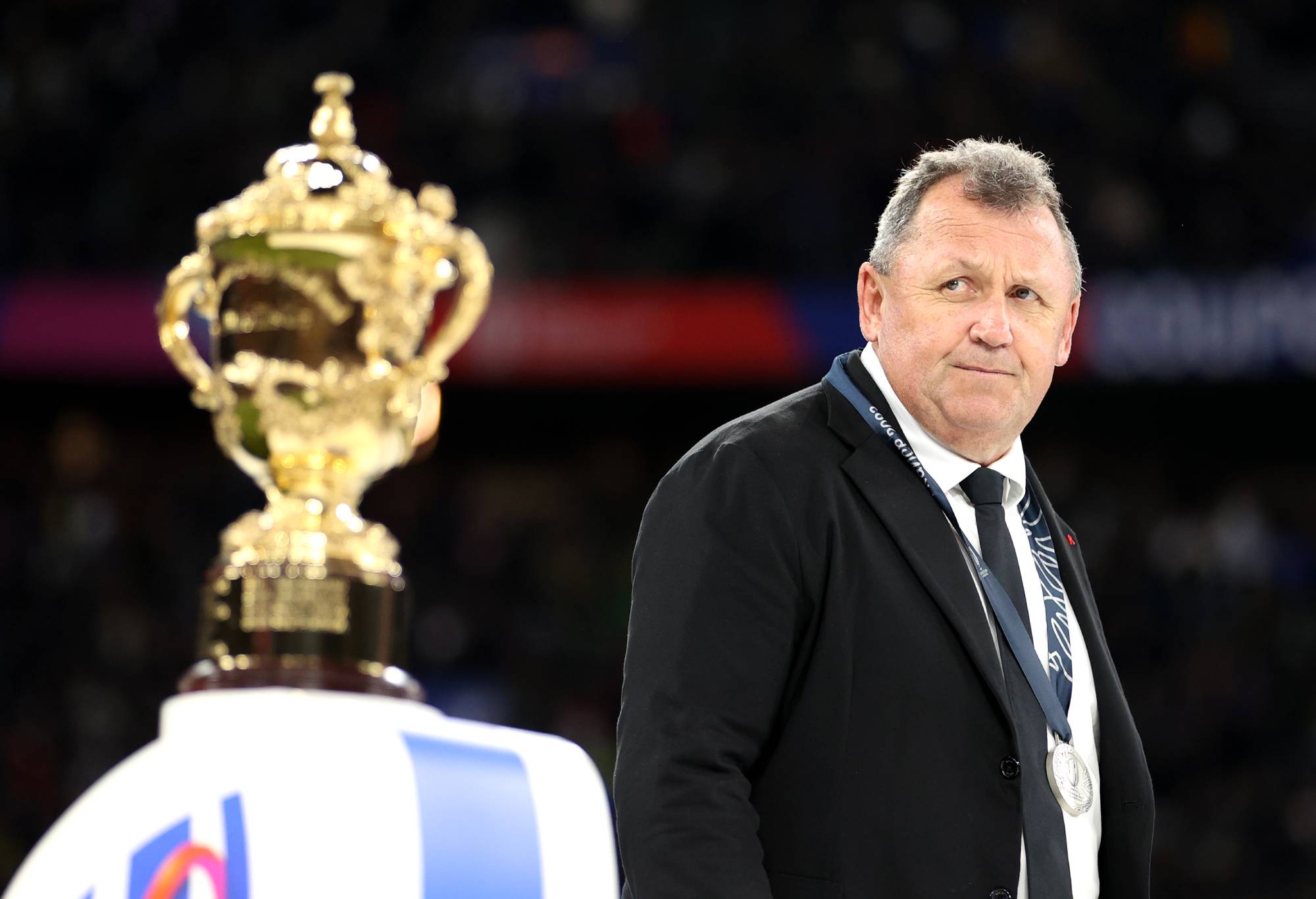 Right at the end the Ian Foster doubters were proven right. The noisy and nagging critics of the straight-talking All Blacks coach got to see him bow out how they'd always imagined – as a loser.
But how close he came to proving them, and the New Zealand Rugby suits who decided to send him to the World Cup as a dead man walking, wrong in the most delicious way.
In the end the difference may just have been Sam Cane's red card that saw the All Blacks fall at the final hurdle to the Springboks. Even then Jordie Barrett, who nailed a 50-metre penalty against Ireland in the quarter-final had the chance to win it with another long ranger here.
Foster leaves his post for shiny new thing Scott Robertson with 32 wins and two draws from his 46 Tests. He's never lost a Bledisloe Cup, and won four from four Rugby Championships. The Cane red card might also cost him a knighthood – all the previous Kiwi World Cup winning coaches go by "sir" – but he says he has some good memories to take to his next role, whatever that might be.
"I would say there were a lot more up than downs," Foster said of his time in charge.
"I've been privileged to be with a special group of people. What's the highlight, today. We lost, but as a coach you want your team on the big stage and to put their best foot forward which they did. I couldn't be more proud."
Foster has been in an unusually light mood in the week leading up to the final – cracking jokes at his last press conferences. It was almost as if he felt the pressure lighting the closer he got to the end of this campaign and to getting home to mow his lawn.
But the hurt was intense on Saturday.
"For us it's heart-breaking and I look at the effort of our team. We gave ourselves a really good chance in that second-half especially after the damage that red card created," said Foster.
"It would be wrong to say we had all the chances, they had chances too. There was a pressure cooker environment. To get ourselves back, score that try, it's disallowed and we get another try.
"We gave ourselves every chance, but it wasn't to be. We are all gutted. We so desperately wanted to win this but I am equally proud. The attitude to play there against a mighty team.  We contributed massively to a final which had a lot of drama."
Like Foster, Springboks coach Jacques Nienaber is on the move, but that's his own choice.
He had some classy words for his defeated rival.
"I don't know a lot of coaches actually, none except him," Nienaber said. "He's the only guy I ever have conversations with. That speaks to the kind of person he is.
"Before the warm-up game we had at Twickenham, there was a cocktail function a day or two before where myself and my wife and him were chatting away for 40 minutes about life and family.
"I am happy for us but my heart breaks for him because I know what it feels like. He is an exceptional human being and an unbelievable coach.
"He has been written off numerous times but the quality team the All Blacks are, they find a way. If you look at sports teams in the world, all of them, they are probably one of the most successful teams, they always have been. He is a leader of that and he is a quality individual."
Foster tried to pin down what makes the South Africans so tough. Their run of three one-point knockout wins to ice this tournament will go down in legend.
"They just know their game," Foster said.
"They are strong. Experienced. Clearly they have learned how to fight in dark place. You can't argue with the three tight wins in this tournament.  They've got the ability to play the game at their pace."