The A-League players who were the difference for their teams in Round 4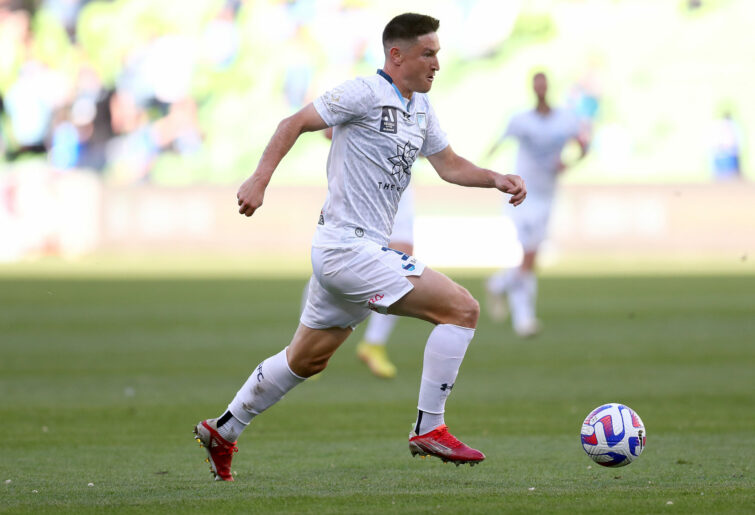 It was a cracking weekend of football with 20 goals scored and plenty of entertaining football played. Check out the one player from each team who made a difference, in Round 4.
Melbourne Victory
Jason Geria was a standout for Melbourne Victory; he provided the assist for their only goal of the game and was a constant threat. What was impressive about his performance was that he was fearless, as he constantly made marauding runs forward down the right-hand side for Melbourne Victory and displayed that he's an elite player at his best. Geria outlined the blueprint to success: "Have to keep persisting, keep working."
Wellington Phoenix
Alex Paulsen was outstanding in a game that Melbourne Victory dominated. The calm and composed manner that Paulsen went about his work was there for all to see. The great part about it was his control of his area and that he made six saves.
Western United
Ben Garuccio worked tirelessly down the left-hand side for Western United. He never gave up and showed a great desire to help his team claim at least a point. Along with that, he was solid defensively and thwarted Newcastle Jets' attacks.
Newcastle Jets
Mark Natta put in a good shift for Newcastle Jets as he curtailed many an attack from Western United. His endeavour never wavered as he played the role he was given by Robbie Stanton, pretty much perfectly from a defensive perspective.
Western Sydney Wanderers
Josh Brillante was outstanding for Western Sydney Wanderers. It was great to watch him help his team control the tempo of the game and the balance of play in the middle of the park; Brillante led by example and provided the assist for the goal scored by Jack Clisby that broke the deadlock in the 50th minute. He passed the ball around well and played a pivotal role in his team claiming the three points.
Perth Glory
Alexandar Susnjar kept the scoreboard respectable for Perth Glory; the left-back won 12 out of 15 duels. He summed the game up well, along with the feeling around the club as things stand: "They capitalised on their chances, we didn't, that's football. It's a new team, a new coach. I believe we can achieve something good this year."
Adelaide United
Zach Clough provided something for Adelaide United; he won the penalty and slotted the ball into the back of the net from the penalty spot. Despite the game being effectively over at 5-0 in favour of Sydney FC Clough scored and gave it his all until the very end.
Sydney FC
Joe Lolley was back to his best, as his performance was phenomenal. A change is as good as a holiday and as upsetting it is to see Steve Corica lose his job, Sydney FC were like a different team, thanks in a large part to Lolley playing with freedom as he scored two goals and provided two assists.
He summed up the situation in his post-match interview: "What we wanted to show was intent. It was a great performance."
He combined well with Jaiden Kucharski, who started his first A-League game and summed up Lolley in a nutshell: "Joe is class."
Melbourne City
Jamie Maclaren broke the deadlock in the 58th minute. Along with that he got his team back into the game scoring a striker's goal in the 90th minute that made the deficit for Melbourne City one goal and at the end of the day they claimed a point. He showed what a competitor he is in his post-match interview: "It's disappointing to drop two points."
Macarthur FC
Ulises Davila was involved in all three goals that Macarthur FC scored. He got the equaliser shortly after Maclaren scored for Melbourne City. The second goal that Macarthur FC scored was due to Davila, whose shot forced Jamie Young into a tough save, which fell to Jake Hollman who gave his team the lead.
The third goal was a bit of brilliance from Davila who provided the assist for Matthew Millar, who made the score 3-1 in what appeared to be an unassailable lead. Davila is trying to keep it simple and is reaping the rewards: "Hopefully we can have more fun and the fans can enjoy the football. I try to enjoy the football."
Sports opinion delivered daily 
Central Coast Mariners
Jake Farrell was instrumental in keeping his team in the match as they trailed by one goal for most of the contest. The stats back up his quality display as he won ten out of 13 duels and made four successful tackles that curtailed chances that may well have ended up in an embarrassing scoreline for Central Coast Mariners; Farrell had a never give up attitude, which was there for all to see.
Brisbane Roar
Florin Berenguer broke the deadlock for the second game in a row. In the 19th minute he scored, after being involved in the build-up play. Berenguer passed the ball around accurately with 93 per cent passing accuracy. He's a player that leads by example and summed up the result from a Brisbane Roar perspective: "We showed great character."
Loading…