Talent, time and toughness: Why Australia's Super Rugby coaches won't run like Eddie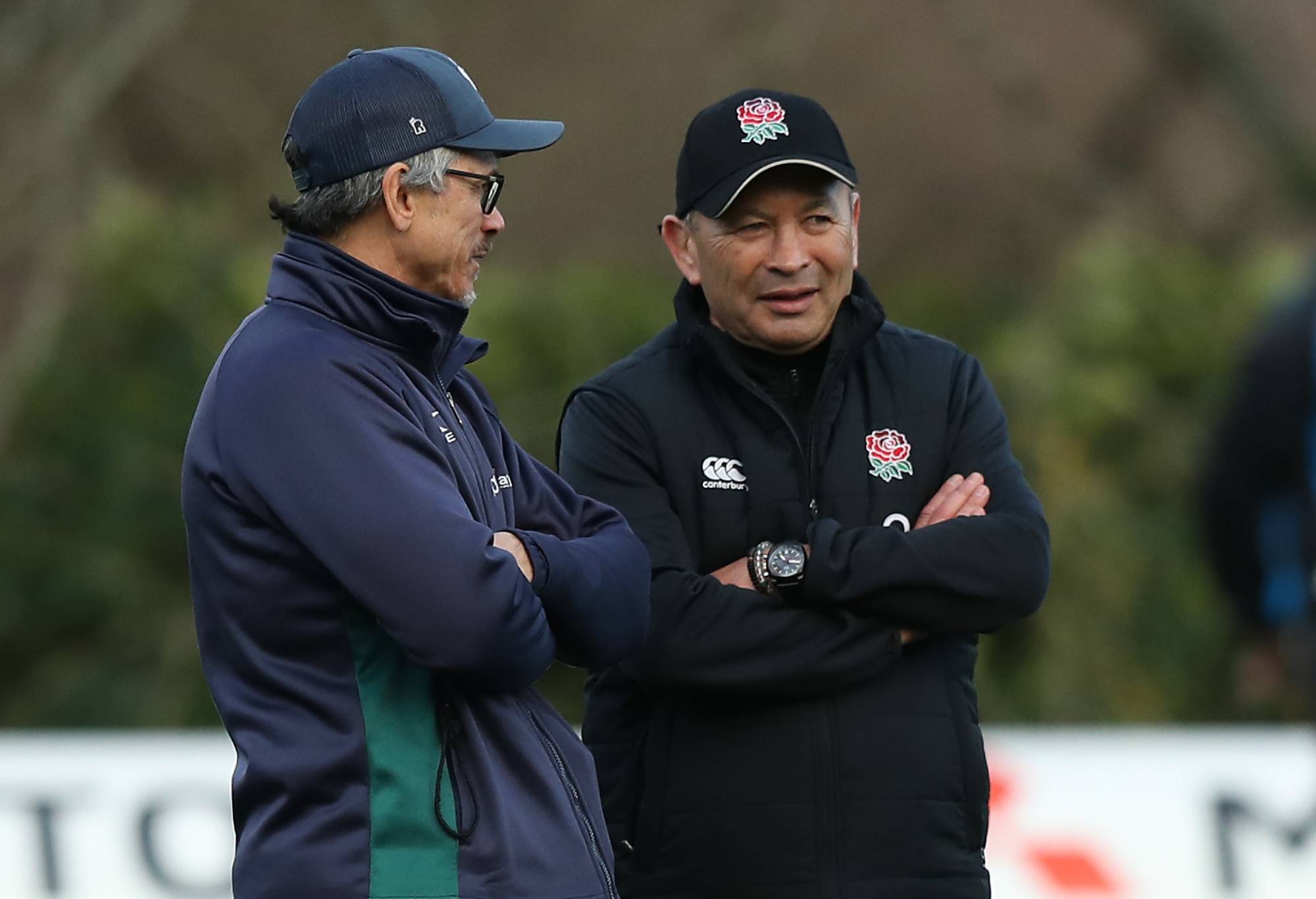 Eddie Jones might have waved the white flag and declared the Australian rugby's rebuilding job too difficult, but the five head coaches leading the respective Super Rugby franchises aren't running for the hills. Far from it, in fact.
On the way out from his unflattering exit from Australian rugby one season into a five-year deal, Jones cited the roadblocks preventing the game from moving forward as one of the key reasons for him leaving.
Notably, Jones, who oversaw the Wallabies' first pool exit at a World Cup, decried the political factions within the game slowing the necessary reform measures holding Australian rugby back, as well as the lack of financial resources capable of powering the game into 2024.
But is Les Kiss, a man with more than 20 years of international coaching experience and Brad Thorn's successor at the Queensland Reds, more or less optimistic since returning to Australian rugby from the English Premiership after being back home for the past few months?
"It's a good question and I'm asking that myself, too," Kiss said. "What I'm not doing is trying to compare it, I just want to see where it is here and make sure I see the challenges but at the same time see the opportunity. I think we can always point the finger but there is stuff that's necessary to do at the ground level, and that's what I'm really focussed on.
"I focus on the 80 minutes generally speaking. In the interim, whilst I have this window of opportunity, I've touched base with a number of players from club land, a lot of the club coaches, a lot of people in our community and just trying to get a lay of the land, and I think there's a lot of bloody good people out there. They have optimism, too. It's a throwaway line to just say we're stuffed.
"There's some really good playing talent here, some good foundations in our program, so I'm trying to make the most of the opportunities I see, but being aware of the challenges and trying to see it from that positive light rather than comparing."
One of the other criticisms levelled at Australian rugby is that its programs aren't doing enough to prepare its players for international rugby.
Waratahs coach Darren Coleman, who isn't shying away from needing to lead better, disagrees.
"In short, no, I definitely feel that our programs are professional enough and the work ethic of our players is high enough," he told The Roar.
"I can't control the Wallabies and I can't control any of the other Super teams.
"I guess what gives me confidence is when we have players enter our program and come back from Europe, and everyone is talking about how good European rugby is at the moment, but we've had players go both ways – come to us or leave us – and the feedback that I get is we're on the right track in terms of our professionalism and work-ethic."
Melbourne Rebels coach Kevin Foote says he's excited about the opportunity ahead for Australian rugby, pointing to Portugal's reception at home, where the emerging European nation was flocked by supporters after drawing with Georgia and beating Fiji during the World Cup.
"I'm quite hurt about it [the Wallabies' World Cup result], as we all are," he said.
"But I do think there's a generation of young players who are very committed to the Wallabies.
"Look at Portugal when they got home and what they went home to, I think the World Cup is a great catalyst for us to be reminded how passionate people are about rugby, and to bring rugby to the forefront in Australia would be pretty special now that everyone is writing us off."
Turning around the dwindling interest in Super Rugby and ensuring Australia's five franchises are competitive is essential to the Wallabies' chances of rising from ninth on the World Rugby rankings and challenging for a third Webb Ellis Cup.
In 2015, both the Brumbies and Waratahs made the Super Rugby semi-finals. That same year the Wallabies, helped by the eligibility changes to the national team that led to Matt Giteau and Drew Mitchell featuring, made the World Cup final.
Since, Australian rugby's struggles in the competition have flowed onto the international stage, with the Wallabies winning less than 40 per cent of Tests over the past two World Cup cycles.
In 2017, Australia's five franchises went winless against New Zealand opposition.
Those struggles have largely continued since, with the Brumbies the only Australian side to make a Super Rugby semi-final since 2019.
But, as last week's squad announcements revealed, some form of stability appears to be returning with Kiss the only new Australian Super Rugby head coach.
It's not just Australia's coaching teams that have built, but the playing stocks too. That is helped by a softening overseas market, as well as by having a Lions tour and a home World Cup on the horizon.
The Roar spoke with all five Australian Super Rugby head coaches about what is making them excited about the forthcoming year ahead.
Perhaps the only positive out of the Wallabies' World Cup disaster is that the players will make an early return to their Super Rugby franchises.
"I haven't been a part of a program as a player or as a coach where the Wallaby players will come back before Christmas," Brumbies head coach Stephen Larkham said.
"There's a great opportunity now to build some connections that we wouldn't normally build before the season starts and maybe a bit of collective understanding, so that's a real positive for Super."
All bar the Waratahs managed to play between two and four extra matches against overseas clubs, too.
For a national union that has been trying to find ways to give its wider core base of players more opportunities to play, every Super Rugby coach spoke highly of the chance to play more games.
"It was a bit of a surprise and a bit earlier than we planned, we had to find 14 players, but we wouldn't take it back because it gave us more rugby," second-year Western Force coach Simon Cron said.
"It gave guys like Max Burey an opportunity to play more and develop his game-management and kicking strategy. Harry Potter got out on the field. Ronan Leahy at 19, he's a young kid. Then people like Henry Robertson at 9 was excellent, Carlo Tizzano played and was leading more."
Larkham spoke particularly highly of his next generation of halves – Klayton Thorn and Declan Meridith – who led the show in the absence of his regular nine and 10 combinations in fixtures against Suntory Sungoliath and Ricoh Black Rams.
"They had very strong teams and particularly Suntory were expecting to beat us," Larkham said.
"I would say everyone performed exceptionally well. We took 26 over there and we played all 26 players. I'm pretty confident all of the players were very happy with their performances. I was. A couple of standouts in Klayton Thorn and Meredith as a 9-10, they both played really good rugby."
Coleman, whose Waratahs struggled throughout the Super Rugby season after exceeding expectations in his first year at the franchise, said he learned considerably from the tough season and was happy heading into 2024 after building depth, particularly in the tight five.
"I'm excited because we've had a bit of both in our two years, we obviously had a really good year one and got some credibility back and then last year, although we didn't get too far backwards, we definitely didn't get forwards," Coleman said.
"So, me personally, I've got some really good lessons out of that. I take all the blame for that. I've taken some good learnings from my second year and I need to adjust some things in how I do it and how I steer the ship. So that's what's exciting me most, the growth that I've gone through in that year two and the changes we've made and how we'll do things.
"We're definitely not launching from the bottom of the pool, we're halfway there in the ladder. We've got a squad that's hungry and another year experienced, and we've added some really good recruits in our tight-five who are young and at the peak of their powers."
While Kiss, who has returned to Australian rugby after the best part of two decades away coaching Ireland, Ulster and London Irish, said he was "psyched about the mission" ahead.
Kiss admitted he had watched upwards of 15 Reds matches since arriving at Ballymore.
Like most of his coaching colleagues, he said the Reds' series against Panasonic Wild Knights had helped give him an early taste of where his wider squad was.
"It's not my nature to get down and gloomy, our remit is to make sure we get the best preparation for our club teams and that's what I'm excited about," Kiss said.
"My positivity and probably my optimism comes from working with the boys in the challenger season. I probably had exposure to 45-50 club players over the two teams and the series against Panasonic over the past few weeks and then just getting some baseline principles at play."
One of the frustrations in recent years is the lack of improvement of its young stars.
Talent and potential haven't necessarily forged into sustained success.
The failure of Jordan Petaia and Harry Wilson, for instance, to kick on from breakout seasons has seen many question whether it is an Australian rugby issue or a coincidence.
Kiss, whose London Irish side rose through the standings with every year he was at the English club, said it was the nature of the game for some to be left disappointed by selection but added that it was his responsibility to challenge his squad.
"The truth is, I'm going to disappoint players too when I don't select players, that's always going to be the case, and even if you are selected, you've always got another 5-10 per cent in you," Kiss said.
"Speaking with Harry and the like, they are driven, they want to learn and grow and that's not a sudden thing, that's something innate in them, and they're hungry.
"If myself and my coaches can offer that and the players engage with that and we work hard, then everything is possible.
"I'm trying to make sure that everyone understands that there will be a toughness and demand in our program, it'll be fair but it'll challenge and I think it'll challenge them to make a 5-10 per cent improvement. It's not unique to one person."
Another theme that was a constant was the importance of having a strong, powerful scrum, particularly after the Springboks claimed back-to-back World Cups.
Coleman said ensuring they built some depth in the position was crucial.
"We identified it as a [shortcoming]," he said.
"It didn't take a three-month review to identify that, but the three to four players of note being [Hayden] Thompson-Stringer, [Tom] Ross up front and [Miles] Amatosero and [Fergus] Lee-Warner … before if we lost a player we probably didn't have the depth, now we can lose a player and still have coverage."
Foote said the Rebels could make the scrum a weapon.
"What did we learn from the World Cup is that set-piece, we still want to play a positive brand of rugby, but you can't go away from the set-piece and scrum," he said. "We have a big front-row. We think the physicality and our forward pack in the scrum could be a big difference for us."