Rugby News: England star REJECTED these two NRL clubs, 'crucial' breakthrough for Lions tour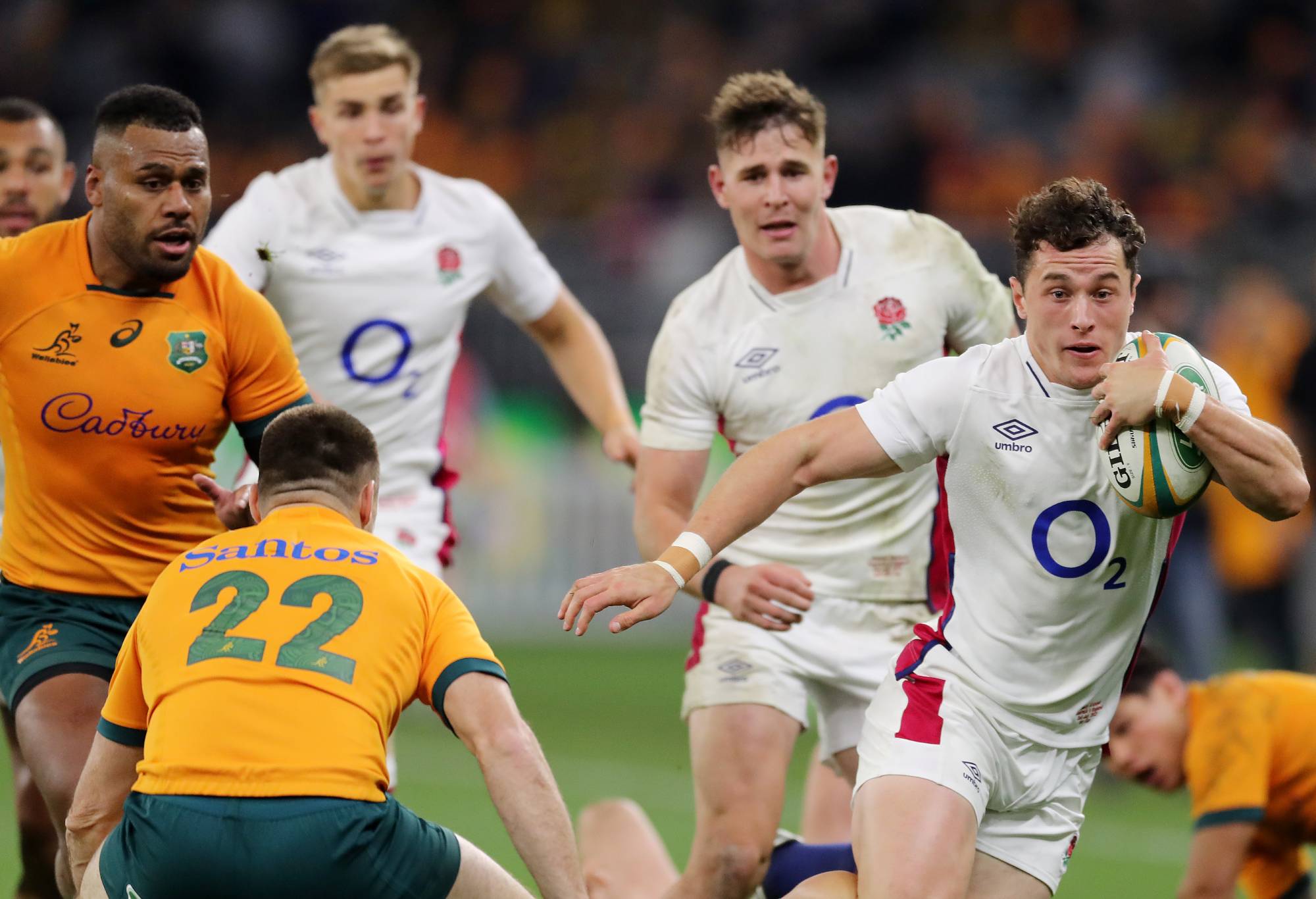 Young England winger Henry Arundell has knocked back interest from two NRL clubs, according to his agent.
Arundell's agent, Ryan Shahin, reacted strongly to rumours in the Australian media linking clubs to the 21-year-old.
Reports in News Corp media suggested Arundell's agents had reached out seeking opportunities, rather than the other way around.
"Players of Henry's calibre generate almost constant interest. Whilst we have had a couple of enquiries recently from NRL sides, these are not something Henry has entertained or considered in any way, and we were clear in our response," Shahin told the Daily Mail.
"Any reports of a possible move to rugby league are false. Henry is excited for the remainder of the season with Racing – and hopefully with England."
The Mail said the two clubs who showed interest in Arundell were the Dolphins and Wests Tigers.
The NRL has an initiative to allow clubs salary camp exemptions to recruit from outside of rugby league.
Wallabies winger Mark Nawaqanitawase has met with Sydney Roosters over his future.
Arundell was given his Test debut by Eddie Jones when he was England coach last year and he made an instant impact in the Perth Test coming on as a late replacement and scoring an exhilarating try.
That appearance was set up by a training ground try that wowed Jones.
"Henry scored…how long is the field, 100 metres? He scored a 90-metre try at training on Wednesday. There were a few, I won't use the expletives, 'he's fast!' heard," Jones said in Perth.
"We had a number of coaches from different sports watching and they heard this comment.
"He scored a try not many other players in the world would have scored. It was like a try Bryan Habana used to score – one of those.
"He could be a very good player but he's got a long way to go. We feel like if he continues his development and we're able to give him some game time on this tour, by the World Cup he could be a significant player."
Jones' replacement at England – Steve Borthwick – seemed less enamoured by Arundell, who also suffered from England's less than expansive style of play in France as the tournament progressed – although he showed his class with five tries against Chile.
Arundell has just joined Paris club Racing 92 and scored a hat-trick on debut last weekend and will be available for the Six Nations in February due to a special dispensation after the financial collapse of London Irish left him without a club team.
Lions players cleared for Aussie tour
The British & Irish Lions have announced a partnership with England's Premiership Rugby and the United Rugby Championship that ensures players are available for the 2025 tour to Australia.
The partnership will allow Lions players from the two leagues to be available for all pre-tour activities as well as marketing and promotional activities.
The deal comes after several players from the Premiership were unavailable for preparations ahead of the 2021 tour when a warm-up Test against Japan clashed with the Premiership final.
"It is crucial that this agreement benefits not just the British & Irish Lions but also Premiership Rugby and United Rugby Championship," Lions CEO Ben Calveley said in a statement.
"Our ambition is to make 2025 the greatest Lions tour ever and we believe the opportunities for collaboration across marketing, promotional and wider activity will add significant value to all organisations."
Premiership Rugby CEO Simon Massie-Taylor said giving the players the best possible preparation time was vital for both the Lions and the league.
"We are now looking forward to seeing as many Premiership Rugby players as possible competing for a Test jersey and hopefully experience being on a winning tour," he said.
The Lions will play three Tests against Australia as well as taking on five Super Rugby franchises and an invitational team made up of players from Australia and New Zealand.
Lawes backs Curry
The England team aren't letting racial slur accusations against South African Bongi Mbonambi go away quietlyu.
Tom Curry, who accused the Springbok of calling him a "white c—" during the World Cup, and in an incident in 2022, doubled down on his accusation earlir this week.
Now his teammate Courtney Lawes has backed him on The Good, The Bad and The Rugby podcast.
Asked if he thought Curry had been let down, Lawes replied: "I do because he will know it was said to him.
"We're not stupid. If people are running around saying 'wit kant' [white side] or whatever they're saying has been said, that's completely different to when someone looks in your eyes and tells you something."
Lawes added there had been other incidents involving "(Curry) and other lads in the team."
The ex-England flanker added: "I don't know what's happened, I wasn't there at the time, I didn't see it and I didn't know what was going on until a day later when it all came out.
"Look, I wouldn't be surprised at all if that was the case (that a racial slur was used). I'm not saying it is, I'm not saying it isn't, but I wouldn't be surprised.
"Regardless, Cuz has a right to say what has happened."
Lawes said Curry had struggled with the online abuse following the alleged incident.
"Cuz is a really good bloke but he can struggle with stuff like that sometimes," he said.
"I spoke to him the day after and I just said: 'look, you know what happened. You've said to the ref: 'he's called me this',' and that's that.
"Essentially, that's all you've got to do. You haven't got to say you have an opinion about what's happened. You haven't got to say you feel offended or feel this way or that way.
"Just say what's happened, state your case and then leave it to whoever wants to take it up. You don't have to worry about it.
"I was just like, 'mate, just park it. You don't have to say a thing other than what has happened to you'."
Force reveal new jersey design
The Western Force have released their 2024 playing jerseys. The club says they feature a fresh new design, including an Indigenous design showing the Derbal Yerrigan (Swan River) and the swirls in the water caused by the Fighting Maali (black swan) which appears on both front and back. 
The away jersey features the state's iconic black and gold colour scheme, harking back to Perth/Western Gold and upholding the heritage and tradition of rugby in WA.
Nyoongar artist Darryl Bellotti's design ensures the Force represents WA's proud indigenous heritage.
The 2024 jerseys also feature a more pronounced chevron on both home and away strips.
(With agencies)