'Hold firm': RA urged not to blow Suaalii deal as Herbert shifts focus from NRL, Eddie rejects 'horse guy's PR'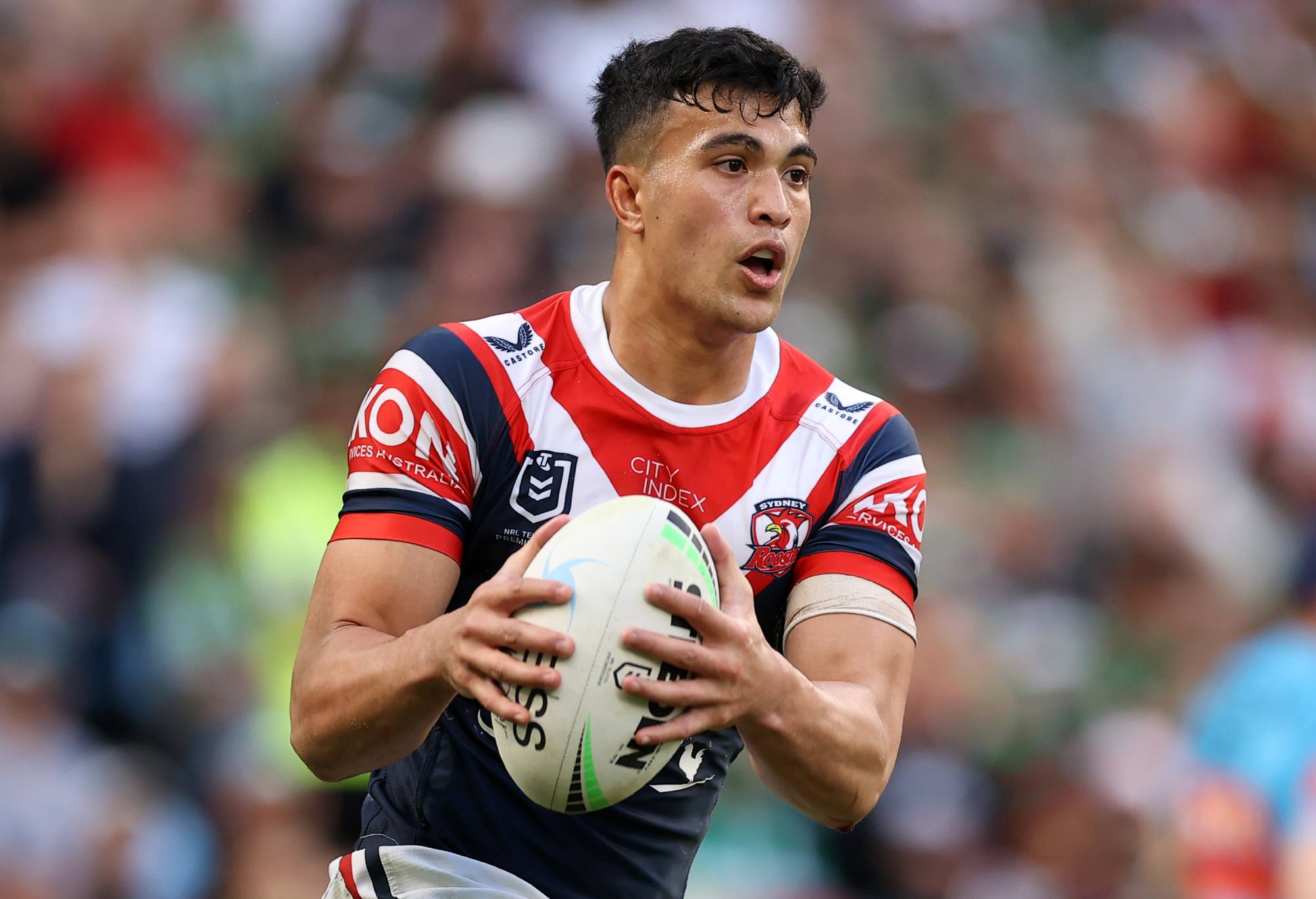 New Rugby Australia chairman Daniel Herbert has signalled a shift away from NRL recruitment but suggests there are no moves underway to get out from under the financial weight of Joseph Suaalii's massive deal.
The Roosters youngster is heading to Rugby on a $1.6m deal – around half of which is to come from donations in a deal driven by former chairman Hamish McLennan.
There have been reports in recent days that Suaalii would be interested in staying in rugby league following the disastrous World Cup campaign and the turmoil that's followed the exits of Eddie Jones and McLennan.
McLennan and Jones have both suggested rugby needed further influx of talent from league but Herbert made his stance clear on Monday in his first press conference since assuming the position.
"Hamish was obviously a driver, and I think he's on the record saying that, but he always socialised, in his words, those decisions," Herbert said.
"In terms of what [Suaalii's] thinking, I can't tell you. But I know that as a chairman I won't be talking about players and play contracts and things like that, those will be questions for [CEO Phil Waugh].
"If the question is more around our interest in league players, I think this is a time to focus inwardly and concentrate on those in the game and making sure we protect and develop those that are in the game first of all."
Asked if RA was exploring ways of getting out of the contract with Suaalii, Herbert responded: "We're not doing that at the moment, no."
Earlier Monday, McLennan said signing the 20-year-old, was "absolutely" the right call.
"That guy will fill stadiums. He will be a breath of fresh air for rugby union," McLennan told 2GB.
"The fact that he wants to switch from league to union is amazing, and he's an incredible talent. So I think that rugby have to hold firm. What you've seen at the World Cup is we don't have the depth that we used to so you need A grade players like that who can come in and make a difference."
Also on Monday Jones engaged in another lengthy podcast chat on his Wallabies tenure – this time with former rugby league star James Graham.
Graham wondered if the existing Wallabies players would have their noses out of joint when the big money recruit joins next year.
"The key is when you bring players in, they've got to have the right attitude. Because otherwise you have situations where it causes a bit of a problem in a team," Jones said.
"And from what I know with Suaalii, everyone who speaks about him from school to Trent Robinson (says) he's a serious professional, works hard and he will be great."
Graham said Suaalii would be under suffocating pressure.
"I've heard so many positive things about him. Clean living, so dedicated to his craft, but let's be honest, Australian rugby is lacking stars," said Graham.
"He is going to be the poster boy, the pinup boy, the billboard boy, he's going to be driving every commercial.
"To carry the hopes of a nation is beyond huge at such a young age, but then there can be a little bit of not only the attitude of Joseph is important, but also the attitude of the players that are currently there, that have to maybe accept yes, we've not been good enough and we need a superstar."
Jones replied: "Initially most players will think like you're thinking – that's just normal human condition. As soon as he starts playing hard, he starts winning games, people forget about that. You've just to perform.
"It's going to be the level of coaching he gets, don't take away the things he's good at, let him do those and get him to understand the game a bit and he'll end up being a great role model."
In recent days the NRL fired shots back at Rugby Australia by announcing they would offer salary cap relief to teams recruiting from union.
Mark Nawaqanitawase has already met with the Roosters and is said to be considering his options but Jones thinks few players will be tempted across.
"The NRL's got the horse guy. He's not bad," said Jones of ARL chairman Peter V'landys.
"His timing of getting on the job, he doesn't wait around. He obviously doesn't have much of a committee. He makes a decision.
"At the end of the day there might be only one or two players they sign but it's already made a statement. It's already got people thinking so I think that's that's brilliant.
"But I don't think there's going to be a huge hunk of rugby players go across to league . It's all being done in the schools, that's where the damage is being done. So this is just a great PR thing by V'landys."