Smart Signings: Ricky's Raiders were right to let Wighton go – but they might not see the benefit for a while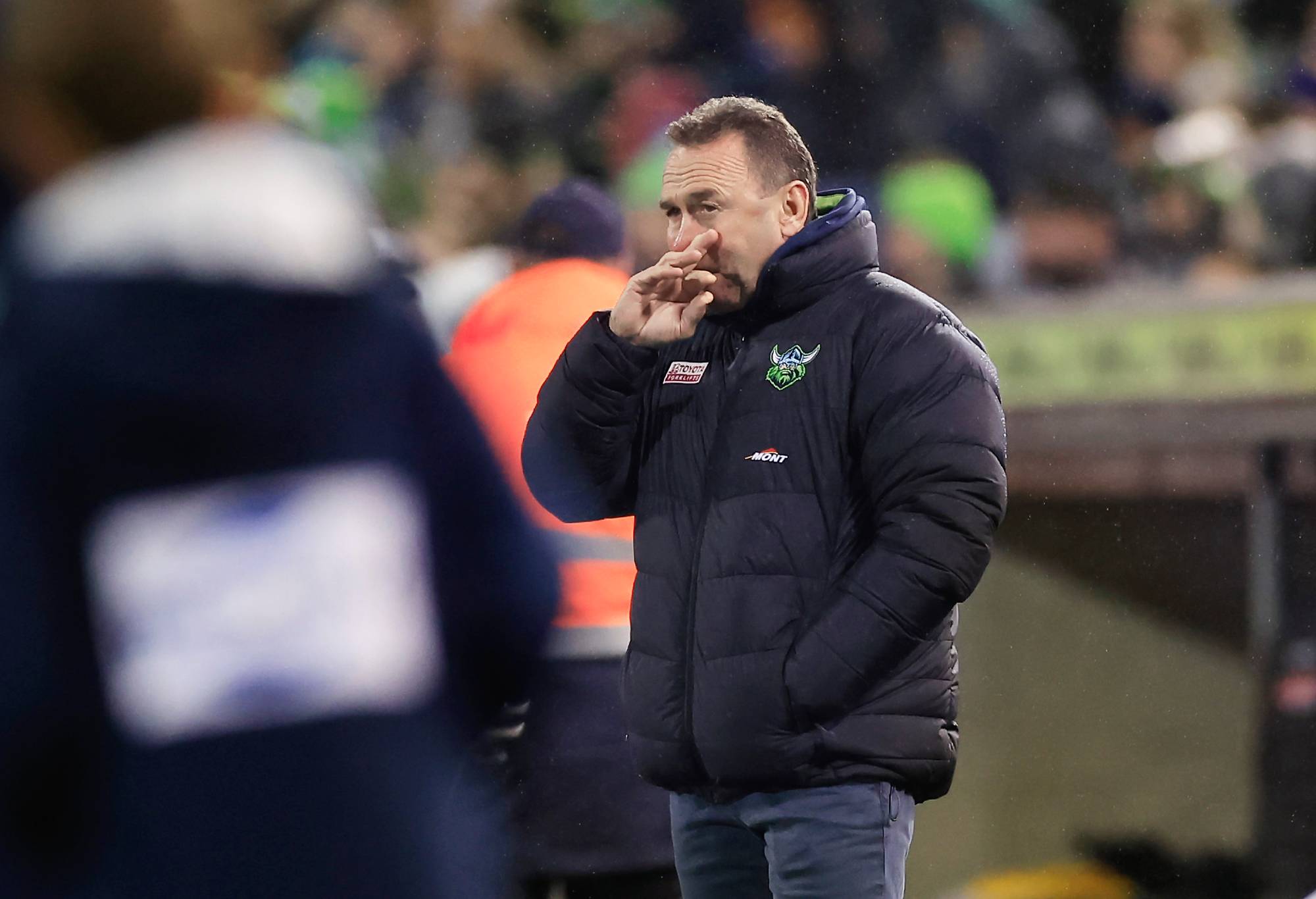 With the Finals over and the November 1 contract deadline passed, we can officially declare the NRL's silly season open.
Into the morass of gossip and conjecture, we will bring sanity, with the relaunch of Smart Signings, our dissection of where clubs are weak, what they need to improve and where they might find it. Expect stats, profiles and insights, with options that are available and realistic. Don't expect rumours.
Ricky Stuart enters his eleventh season at the helm of the Canberra Raiders knowing that things need to get better.
His position at the club couldn't be any stronger, but Sticky won't think like that: he will look at last year's performances and understand that his side were incredibly lucky to end up where they did, scraping into the top eight as other sides fell around them.
Any discussion of Canberra starts with the coach, because he looms over the whole organisation more than any player or administrator. As the Dogs are Gus and Souths are Latrell, the Raiders are Sticky.
The big story recruitment wise is not an arrival but rather the departure of Jack Wighton, who leaves for South Sydney after a long period as, nominally at least, Canberra's best player.
Though on a personal level it will have been sad to see such a beloved son of the club leave, from a purely cold-hearted playing perspective, it's far from the worst thing that could have happened.
Wighton was offered megastar money, but hasn't been putting in performances that match, and the team might benefit from his pay packet going into several positions rather than one very good five eighth or, as we might find at Souths, an exceptional centre.
Also departing is Jarrod Croker – again, file as the emotional but necessary – and Matt Frawley, who goes to the Super League.
In comes Morgan Smithies from Wigan, Kaeo Weekes from Manly and Simi Sasagi from Newcastle.
To recap: that's a rep-level five eighth, a club legend centre and a serviceable halfback out, with a Super League lock, a rookie fullback and an outside back who hasn't played first grade in a year.
If you're confused, join the club, because that doesn't make a whole heap of sense.
Then again, the coach moves in mysterious ways at times. Second guessing Ricky Stuart can be a fool's errand, but the hunch is that he is working with two ideas in his mind.
Firstly, he knows what is coming through and what is going out.
Canberra's November 1 list is both very old and very young, with high wage veterans such as Josh Papali'I, Elliott Whitehead and Jordan Rapana into their last year, as well as young, fringe players such as Peter Hola, Ata Mariota, Trey Mooney, Brad Morkos, James Schiller and Harley Smith-Shields.
Their junior ranks, however, are stacked. Mariota, Mooney, Schiller, Ethan Strange and Xavier Savage are all 22 or under and have played grade.
The NSW under-19s squad had three key position Raiders in Strange, Chevy Stewart and Jake Clydesdale, plus Morkos, Mooney and Michael Asomua from the year before.
Secondly, he knows that teams work in cycles and that Canberra might be in a fallow period between the fall of their 2019 Grand Final generation and the rise of the next group.
The city has historically been a hard sell as far as recruitment goes – outside of England at least – and their best players have come internally.
When Ricky looks at his off-contract list, including the clump aged between 22-25, he might wonder what could have happened if they had enjoyed more opportunities at earlier ages.
One of the big criticisms of his coaching in recent years has been a reliance on older, more trusted players, but now, with a serious crop coming through and expectations perhaps lowered, 2024 could be the year that they get a run.
Since making the showpiece, Canberra have gone fifth (2020), then tenth, eighth, eighth. They're solidly middle of the pack and, if they have aspirations of going higher, they might need to go back to go forwards.
Looking from the outside, it's not clear who the fullback will be, who the five eighth will be, who the hooker will be or how the backline will be set up.
Seb Kris was 1 last year, but surely will revert to his more traditional centre role to allow one of Stewart, Savage or Weekes to get a crack.
Strange or Weekes could be the 6 alongside Jamal Fogarty, and at 9 there are four options in Zac Woolford, Danny Levi and Tom Starling plus Adrian Trevilyan, the big hope of previous years.
The outside backs and forward pack pretty much pick themselves, which is good, but in truth, it was already the spine that was the problem last year and throwing in a load of rookies or stopgaps doesn't do a great deal to solve that.
Stylistically, Canberra were among the worst teams to watch in 2023, because they largely lacked creativity beyond Fogarty's kicking and Wighton's increasingly telegraphed darts at the line.
The stats write this in double bold type: the Raiders were second for Tackles Inside 20m and dead last for line breaks, a testament to their ability to get into position to attack, then do absolutely nothing.
They were right down for passes-per-run, playing heads-down-bums-up all the way, and also for line engaged runs, suggesting that the passes they did make, they did far in advance of the line.
This was largely a choice on their behalf, with Stuart preferring to drag teams into a dogfight and win that way, and it's hard to argue with the results, as they made the finals without ever running up a score.
The good news is that they could change to be a mite more attack-minded without compromising the excellent defence that took them to so many tight victories.
If 2024 is a year where, as looks to be the case, they embed new spine players, then 2025 is one in which they will try to find strike.
Currently the forwards are a little one-paced, but with Whitehead leaving, there is huge scope to upgrade that position and add further threat to a pack that already includes the likes of Joseph Tapine and Corey Horsburgh.
That won't be Smithies, who is more in the defensive mould, with the Englishman topping the Super League tackle count in 2023, though his signing will likely enable Horsburgh to be more impactful as a prop than as a lock.
Instead, where Ricky could look could be his namesake, Broncos second row Jordan Riki.
The Raiders tried for a long time to chase David Fifita as a backrow option, but with his contract seemingly settled at the Titans, they could do a lot worse than making a big play at the 23-year-old Kiwi, who has emerged as one of the most damaging strike runners around and is only improving.
Riki's level of game involvement was markedly different to Fifita's – touching the ball half as many times per game – but when he did get it, the impact was similar, with the pair not far apart on metres per run or pass per run. Defensively, Riki outstrips Fifita, with more tackles made at a better rate.
The Kiwi also profiles nicely with Hudson Young, with similar or better output per touch in terms of metres, tackle breaks, line breaks and tries with, again, a defensive advantage. If you offered Raiders fans a second Hudson now, they'd snap your hands off.
Riki is probably at peak value and wouldn't be cheap – but given the emphasis on youth and the wages walking out the door, it's within scope for the Raiders to make him an offer.
That they have shown interest in other marquee backrowers – Keaon Koloamatangi was also mentioned – shows that the cash is there.
It would be remiss not to mention the Super League options when discussing the Raiders, as no side loves a Pommy import more.
The bad news in backrowers is that they missed out on the best, with Kai Pearce-Paul joining Newcastle, but there are plenty of other options that would be within the age range and talent level – and one that would be pure Sticky.
James Bentley, the Leeds and Ireland backrower, is perhaps most famous for a post-World Cup scrap with Victor Radley, but is a similar profile to one of the most characteristic Raiders of recent years, John Bateman.
JB 2.0 is ultra-aggressive on both sides of the ball, runs great lines and has that bustling style that creates chaos, offloads and points of difference in attack.
If there's any coach that would take him, it's Ricky, and he could get the best out of him too. In a pack that already includes Big Red and Big Papa, adding the Super League's most aggressive player could only be box office.
Loading…